Offering employees the option to work while on leave is not interference
Posted May 10, 2018
After her husband suffered injuries from a car accident and could no longer perform his job, Francesca and he bought a cruise sales franchise. While this seems innocent enough, Francesca already worked for such a company and had signed a non-compete agreement. The employer was not aware of the employee's franchise purchase.
At one point, Francesca was advised by her HR department to take FMLA leave to care for her husband, which also appears innocent on the surface. One of the instances that Francesca took leave, however, was to attend training on the couple's franchise business.
Still unbeknownst of the reason for this leave, the employer offered Francesca a couple options: Take unpaid FMLA leave, or work remotely a few times per week to continue to receive some pay. Francesca chose the latter option. She attended the training, while her husband stayed home.
While she was away, Francesca did not perform any work as agreed. The employer reminded her of their agreement and her responsibilities. Eventually, the employer reassigned Francesca's responsibilities. As such, Francesca believed she was terminated and filed for unemployment. The company, however, indicated that she was still an employee, but on FMLA leave.
A couple months later, Francesca's FMLA leave exhausted and the employer asked if she was returning to work. Francesca indicated that she wasn't because she thought she had already been terminated. She subsequently sued, arguing that the employer interfered with her FMLA rights when it required her to perform work while on leave. The employer argued that Francesca was given an option to work while on leave. The court indicated that giving employees such an option does not constitute interference with FMLA rights so long as working while on leave is not a condition of continued employment. Since the option Francesca chose was not mandatory and she was not coerced into accepting the option, her employer did not interfere with her FMLA rights.
The employer filed a counterclaim that Francesca engaged in a breach of contract, among other things, arguing that she was not eligible for FMLA leave because she misrepresented her reasons for taking leave and improperly used her leave to help her husband establish a franchise. The employer did not prevail on this count. The court indicated that her attending training while on leave did not itself establish that Francesca misrepresented her need for FMLA leave. There was evidence suggesting that Francesca did, in fact, care for him while on leave. Francesca also argued that she was not even aware of the possibility of taking FMLA leave until it was suggested to her by her supervisor, who was aware of the stress she was under while working and also taking care of her husband. Therefore, a reasonable jury could conclude that Francesca did not misrepresent her need for FMLA leave.
D'Onofrio v. Vacation Publications, Inc., Fifth Circuit Court of Appeals, No. 16-20628, April 23, 2018.
This article was written by Darlene M. Clabault, SHRM-CP, PRH, CLMS.
---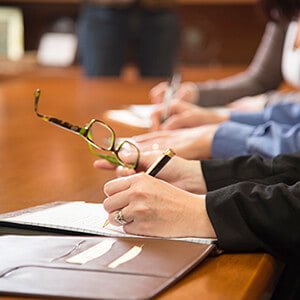 J. J. Keller's Family and Medical Leave Act (FMLA) Consulting Service can help your company ensure compliance with FMLA requirements and minimize the law's burden to your organization.
---
J. J. Keller's FREE HRClicks™ email newsletter brings quick-read human resources-related news right to your email inbox.