Trucking company and its officials pled guilty to violating federal requirements
Posted May 22, 2017
A motor carrier and four of its company officials pled guilty to federal charges, including conspiracy to commit an offense against the United States and to knowingly violate the Federal Motor Carrier Safety Regulations (FMCSRs).
According to evidence presented by Assistant United States Attorneys in the United States District Court for the Western District of Virginia in Harrisonburg:
The trucking company — based in Mount Crawford, Virginia — had been contracted to transport United States mail.
Between 1999 and 2017, the company knowingly violated the FMCSRs by encouraging, permitting, causing, or requiring its drivers to make trips in violation of federal hours-of-service (HOS) regulations for commercial motor vehicle (CMV) drivers.
The company and its officers were accused of:
Falsely recording duty statuses;
Encouraging and permitting some CMV drivers to falsify time sheets to report fewer hours than actually worked;
Telling some CMV drivers that they would not be paid for short rest periods and time waiting for their trailers to be loaded or unloaded at postal facilities;
Failing to inform company drivers of pay requirements of the mail contracts;
Failing to review and consider some CMV drivers' request for additional pay; and
Failing to pay some company drivers as required under the federal Service Contract Act, the Fair Labor Standards Act, and the mail contracts.
As part of the plea agreement, the company agreed to pay a fine of $250,000 and forfeit $2,000,000 of fraudulently obtained proceeds. The trucking company will also pay approximately $1,000,000 in restitution to drivers who were defrauded of their pay.
---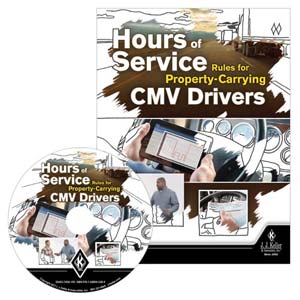 J. J. Keller's Hours of Service Rules for Property-Carrying CMV Drivers - DVD Training includes all current Hours of Service rules drivers must comply with.
---
J. J. Keller's FREE Transportation SafetyClicks™ email newsletter brings quick-read safety and compliance news right to your email box.