Insurance group calls for mandatory underride guards
Posted May 12, 2017
Crash testing shows that side underride guards on semitrailers can prevent injuries and fatalities and should be mandatory, according to the Insurance Institute for Highway Safety (IIHS).
IIHS ran two 35-mph crash tests this spring, driving a midsize passenger car into the side of two semitrailers, one fitted with an underride protection device and one equipped with fiberglass skirts designed for aerodynamics.
"The results were dramatically different," the IIHS noted.
When the car struck the underride protection device, the device bent but didn't allow the car to go underneath the trailer. The car's airbags and seatbelt restrained the test dummy in the driver seat, IIHS says.
In the second test with no underride guard, the car ran into the trailer and kept going. The impact sheared off part of the roof and the sedan became wedged beneath the trailer.
"In a real-world crash like this, any occupants in the car would likely sustain fatal injuries," IIHS says.
This marks the first time IIHS has tested side underride guards, but the Institute has been testing rear underride guards for several years.
IIHS estimates that underride occurs in about half of fatal crashes between large trucks and passenger vehicles. Out of 1,542 passenger-vehicle occupants killed in 2015 in two-vehicle crashes with a tractor-trailer, 301 died when their vehicles struck the side of the tractor-trailer.
A 2012 IIHS study found that strong side underride guards have the potential to reduce injury risk in about 90 percent of side crashes with semitrailers that produce a fatality or serious injury.
Federal law requires large trucks to have rear underride guards but not side underride guards.
"Our tests and research show that side underride guards have the potential to save lives," says David Zuby, the Institute's executive vice president and chief research officer. "We think a mandate for side underride guards on large trucks has merit, especially as crash deaths continue to rise on our roads."
---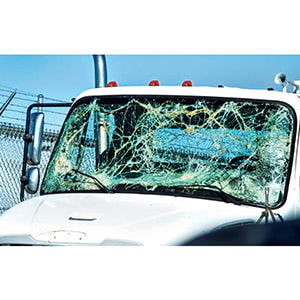 J. J. Keller's Driver Training Series: Accident Procedures - Online Course provides step-by-step procedures for what to do after a crash.
---
J. J. Keller's FREE Transportation SafetyClicks™ email newsletter brings quick-read safety and compliance news right to your email box.