House passes comp time bill
Posted May 4, 2017
A bill that would allow employees to receive paid time off instead of overtime pay passed the House of Representatives with a 229-197 vote on May 2.
Under Working Families Flexibility Act, H.R. 1180, private-sector employees could give workers the choice of receiving paid time off instead of cash payments for each hour of overtime.
A White House press release states that if the bill were presented to the President in its current form, his advisors would recommend that he sign the bill into law.
A Senate version of the bill, S. 801 introduced on April 3 by Mike Lee (R-Utah), has been referred to committee.
Time off rather than pay
The bill would amend the Fair Labor Standards Act (FLSA) to allow employees to receive at least 1½ hours of compensatory time off (or "comp time") for each hour of overtime worked.
The employer and employee would have to agree to the arrangement before the employee performs the work, and would have to put the agreement in writing. The bill requires the agreement to be voluntary on the part of the employee. Employers are not to threaten or coerce an employee into requesting or not requesting comp time, or require an employee to use it. An employee could opt for comp time after working at least 1,000 hours in 12 consecutive months. Employers could establish a cap on the number of comp time hours, and unused comp time would be paid out at the end of the year. It would also be paid out at the end of employment.
Updated poster required
The bill requires the secretary of labor to amend the FLSA poster, which explains the law. The poster is to be revised no later than 30 days after the Act is enacted.
Employers will be required to display the updated poster in conspicuous places to allow employees to readily observe a copy.
Employers should currently be displaying an FLSA poster with a revision date of July 2016. The Department of Labor's most recent mandatory change to the FLSA poster took effect on August 1, 2016.
---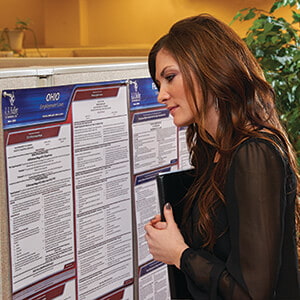 J. J. Keller® Employment Law Poster Audit & Research Service identifies the labor law poster requirements for each of your sites and provides a comprehensive audit to determine what postings are currently at your facilities.
---
J. J. Keller's FREE HRClicks™ email newsletter brings quick-read human resources-related news right to your email inbox.