EPA, Army pose WOTUS question to state governors
Posted May 12, 2017
EPA and the U.S. Army are soliciting input from state governors on a new definition of waters of the United States. EPA head Scott Pruitt explains, "EPA is restoring states' important role in the regulation of water." He added, "We need to work with our state governments to understand what they think is the best way to protect their waters, and what actions they are already taking to do so."
The move comes two months after the two agencies announced their intention to review, rescind, or revise the June 29, 2015, Clean Water Rule (also known as the Waters of the United States (WOTUS) rule) consistent with a February 28 Executive Order from the White House. The Executive Order directed the agencies to roll back and replace the Clean Water Rule to promote economic growth, minimize regulatory uncertainty, and show due regard for the roles of Congress and the states under the Constitution, while at the same time ensuring that the nation's navigable waters are kept free from pollution.
Among other provisions, the overarching law, the Clean Water Act (CWA), regulates the discharge of pollutants into "navigable waters," defined in the CWA as "waters of the United States." How to define "waters of the United States" is a question that has generated substantial interest and uncertainty, especially among states, small businesses, the agricultural communities, and environmental organizations because it relates to the extent of jurisdiction for federal and relevant state regulations.
EPA and the Army now say they would consider interpreting the term in a manner consistent with a 2006 opinion of Supreme Court Justice Antonin Scalia. According to EPA, Scalia's definition explains that federal oversight should extend to "relatively permanent" waters and wetlands with a "continuous surface connection" to large rivers and streams. Opponents to this approach say Scalia's opinion is a narrower interpretation than other Supreme Court opinions on the term.
To meet the objectives of the Executive Order, the agencies are following a two-step process:
Revise the CFRs to re-codify the definition of "waters of the United States" to the prior regulatory text. This prior text is the text that currently governs administration of the CWA, in light of a decision by the U.S. Court of Appeals for the Sixth Circuit staying the definition of "waters of the United States" promulgated in 2015. This first action step will make the text of the CFR reflect the definition currently in effect under the Sixth Circuit stay.
Issue a public-notice-and-comment rulemaking involving a substantive reevaluation and revision of the definition of "waters of the U.S."
The letter recently sent to governors is seeking input on the second step of the process.
It should be noted that a lawsuit challenging the Clean Water Rule is currently before the courts.
---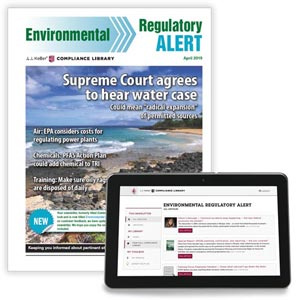 J. J. Keller's Environmental Alert: The Compliance Guide for Safety Professionals helps you stay on top of the latest environmental enforcement issues.
---
J. J. Keller's FREE Workplace SafetyClicks™ email newsletter brings quick-read workplace safety and compliance news right to your email box.