Compliance dates for formaldehyde emissions delayed again
Posted May 24, 2017
EPA published a direct final rule in the May 24, 2017, Federal Register that revises the December 2016 final rule for formaldehyde emission standards for composite wood products.
The direct final action extends the Toxic Substances Control Act (TSCA) Tile VI final rule compliance dates including extending the:
December 12, 2017 date for emissions standards, recordkeeping, and labeling provisions until March 22, 2018;
December 12, 2018, date for import certification provisions until March 22, 2019; and
December 12, 2023, date for provisions applicable to producers of laminated products until March 22, 2024.
The final action also extends the transitional period during which the California Air Resources Board (CARB) Third Party Certifiers (TPC) may certify composite wood products under TSCA Title VI without an accreditation issued by an EPA TSCA Title VI Accreditation Body as long as the TPC remains approved by CARB, is recognized by EPA, and complies with all aspects of the December 12, 2016, final rule. According to EPA, this transitional extension of compliance dates adds regulatory flexibility for regulated entities, reduces compliance burdens, and prevents disruptions to supply chains.
The direct final rule will become effective in 45 days unless EPA receives adverse comment by June 8.
At the same time, EPA also published a proposed rule on the extension of the compliance dates for formaldehyde emissions from composite wood products to allow stakeholders to comment. Submit comments to EPA using Docket ID # EPA-HQ-OPPT-2017-0244 at the Federal eRulemaking Portal.
EPA said that after it published an earlier delay of the effective date from February 10, 2017, to March 21, 2017, the agency received requests from the composite wood industry and other affected stakeholders to delay the compliance dates. The effective date was again delayed to May 22, 2017.
EPA believes this latest extension will provide industry and TPCs with enough time to establish their TPC programs and ensure no interruption of the supply chain of certified composite wood products to fabricators, importers, distributors, and retailers.
Industries potentially affected by the extension of compliance dates include:
Veneer, plywood, and engineered wood product manufacturing (NAICS code 3212).
Manufactured home (mobile home) manufacturing (NAICS code 321991).
Prefabricated wood building manufacturing (NAICS code 321992).
Furniture and related product manufacturing (NAICS code 337).
Furniture merchant wholesalers (NAICS code 42321).
Lumber, plywood, millwork, and wood panel merchant wholesalers (NAICS code 42331).
Other construction material merchant wholesalers (NAICS code 423390), e.g., merchant wholesale distributors of manufactured homes (i.e., mobile homes) and/or prefabricated buildings.
Furniture stores (NAICS code 4421).
Building material and supplies dealers (NAICS code 4441).
Manufactured (mobile) home dealers (NAICS code 45393).
Motor home manufacturing (NAICS code 336213).
Travel trailer and camper manufacturing (NAICS code 336214).
Recreational vehicle (RV) dealers (NAICS code 441210).
Recreational vehicle merchant wholesalers (NAICS code 423110).
Engineering services (NAICS code 541330).
Testing laboratories (NAICS code 541380).
Administrative management and general management consulting services (NAICS code 541611).
All other professional, scientific, and technical services (NAICS code 541990).
All other support services (NAICS code 561990).
Business associations (NAICS code 813910).
Professional organizations (NAICS code 813920).
---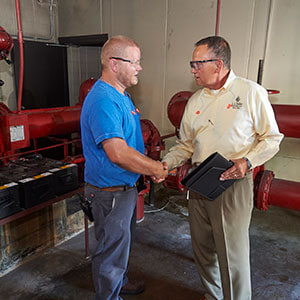 J. J. Keller® Environmental Compliance Audit Service provides an experienced on-site consultant to assess your environmental reporting requirements.
---
J. J. Keller's FREE Workplace SafetyClicks™ email newsletter brings quick-read workplace safety and compliance news right to your email box.