Communicating the FMLA (Part 1)
Posted May 20, 2016
Effective communication is a key component to avoiding violations of the Family and Medical Leave Act (FMLA) and ensuring smooth administration. Covered employers must provide employees with certain critical notices about the FMLA, and employees must respond to employer requests.
A series of articles about communicating the FMLA will be posted weekly for the next three weeks. This series will look at employers' communication obligations under the FMLA, as well as related employee obligations. This communication includes, for example, posters, notices, and certifications of various sorts.
To begin, in the most basic terms, covered employers who have employees who are eligible for FMLA leave must:
Post and/or provide employees with general notice about the FMLA (all covered employers must post);
Notify employees concerning their eligibility status and rights and responsibilities under the FMLA; and
Notify employees whether their leave is designated as FMLA leave and the amount of time that will count against their FMLA leave entitlement.
Not all notices are required in all situations. Breaking it down even further, the first mandate is the poster.
General notice
All covered employers must display a general notice about the FMLA (an FMLA poster). To meet the general FMLA notice requirements, you must display a poster in plain view for all workers and applicants to see, notifying them of the FMLA provisions and providing information concerning how to file a complaint with the Department of Labor's Wage and Hour Division (WHD). While it might seem odd to post the notice where applicants can see it, since they would not be eligible for FMLA leave for a while, they would be informed that you are an FMLA-covered employer.
You must display this poster even if you have no eligible employees. Willfully violating this posting requirement may result in an assessed civil penalty of $110 for each separate offense. You may post the WHD's FMLA Poster, or may use another format so long as the information provided includes, at a minimum, all the information contained in the WHD's FMLA Poster.
The WHD updated the FMLA poster in April 2016, but the previous one from February 2013 is also acceptable.
In addition to displaying a poster, if you have any eligible employees, you must also provide a general notice containing the same information that is in the poster in your employee handbook (or other written material about leave and benefits). If no handbook or written leave materials exist, you must distribute this general notice to new employees upon hire. The poster may be posted electronically, and the general notice may be distributed electronically provided all other requirements are met.
When an employee puts you on notice of the need for leave, the rest of the communication process is triggered.
Part II of the series will delve into the eligibility/rights and responsibilities notice.
This article was written by Darlene Clabault of J. J. Keller & Associates, Inc.
---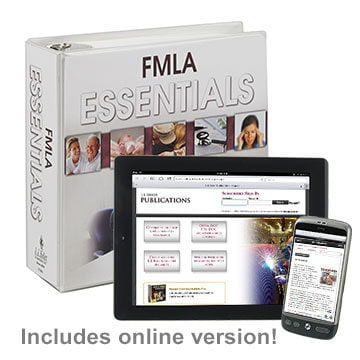 J. J. Keller's FMLA Essentials manual helps HR pros understand and comply with the requirements, control costs related to leave taken and minimize the law's potential disruption to their organizations' operations.
---
J. J. Keller's FREE HRClicks™ email newsletter brings quick-read human resources-related news right to your email inbox.