Clarifying details about Pennsylvania's May 1 lanternfly permit deadline
Posted April 29, 2019
As of May 1, Pennsylvania is requiring motor carriers doing business in the southeastern corner of the state to obtain a permit to move vehicles, equipment and goods out of a quarantined zone due to an invasive species.
To obtain a permit, a carrier must designate one employee to take a free, online course through the Penn State University Extension, on how to deal with the spotted lanternfly, the invasive species that can harm agricultural crops. The designated employee must then train fellow company employees who will work inside the quarantined area. After the specific employees receive training, vehicles that will travel through the area are granted an orange decal that indicates that the truck is cleared to do business in the area.
The permits are also reciprocal to Delaware and New Jersey, as both also have counties under quarantines for the lanternfly. Fourteen counties in Pennsylvania have been placed in the quarantine zone. Agencies will inform carriers when the renewal deadline approaches.
Affected counties include: Pennsylvania — Berks, Bucks, Carbon, Chester, Dauphin, Delaware, Lancaster, Lehigh, Monroe, Montgomery, Northampton, Philadelphia, and Schuylkill; New Jersey — Warren, Hunterdon, and Mercer; Delaware — New Castle.
As the deadline moves closer, below is some clarification about the permits. The questions and answers are provided from the Pennsylvania Department of Agriculture (PDA).
Q: My vehicles drive through the quarantine zone but do not stop. Do I need a permit?
A: If you do not stop in the quarantine zone for business or for anything except quick stops, such as fueling, you are not required to get the permit.
A company that has a facility inside the quarantine zone that packages pallets of products and ships with its own fleet of trucks or with common carriers does need a permit.
Q: How often will trucks be stopped?
A: Inspections will be conducted on a periodic basis as determined by PDA. Timing and frequency depend in part on the spotted lanternfly life cycle and habits.
Q: Who is doing the inspections, and what are they looking for?
A: PDA will conduct the inspections, and work in cooperation with the Pennsylvania State Patrol. The State Patrol may also check for violations under their authority.
Q: How long can a driver expect the inspection process to take, if they are stopped?
A: Each verification check is unique based on truck load type and time.
---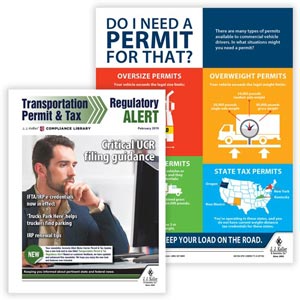 J. J. Keller's Transportation Permit & Tax Regulatory Alert Newsletter provides regular updates on changes to permitting and reporting requirements.
---
J. J. Keller's FREE Transportation SafetyClicks™ email newsletter brings quick-read safety and compliance news right to your email box.
Sign up to receive Transport SafetyClicks™.