FMCSA confirms ELD waiver for livestock and insect haulers
Posted April 6, 2018
The Federal Motor Carrier Safety Administration (FMCSA) has confirmed that it will not be enforcing the electronic logging device (ELD) mandate on drivers hauling livestock or insects before the end of summer.
A recently-approved government funding bill prohibits the FMCSA from spending tax dollars to enforce the ELD rule on those drivers before October 1, 2018, when the government's fiscal year (FY) ends.
In a statement issued April 4, 2018, the agency noted that livestock and insect haulers "are not required to comply with the ELD rule for the duration of the FY 2018 appropriations bill (September 30, 2018), and any subsequent continuing resolutions."
The term "livestock," as defined in 49 CFR Sec. 395.2, includes cattle, elk, reindeer, bison, horses, deer, sheep, goats, swine, poultry, fish used for food, and other animals that are part of a foundation herd.
Though most long-haul interstate motor carriers were required to start using ELDs in place of paper logs on December 18, 2017, the FMCSA temporarily waived the requirement for drivers transporting livestock and other agricultural commodities under the provisions of Sec. 395.1(k)(1), no matter how far they travel.
The FMCSA recently extended the waiver for agricultural commodities until June 18, 2018. Unless the waiver gets extended, the agency can begin enforcing the ELD rule on drivers hauling agricultural commodities – but not including livestock or insects – starting on that date.
This article was written by Daren Hansen of J. J. Keller & Associates, Inc.
---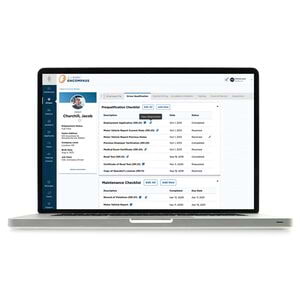 J. J. Keller® E-Logs - Compatible with iPad®, iPhone® and Android™ mobile devices. Affordable, flexible options from the nation's most respected transportation solutions provider.
---
J. J. Keller's FREE Transportation SafetyClicks™ email newsletter brings quick-read safety and compliance news right to your email box.