Texas transport company pays $65K to settle disability discrimination claims
Posted April 28, 2017
A Texas-based fuel transport company has agreed to pay $65,000 and furnish other relief to settle a disability discrimination lawsuit brought by the U.S. Equal Employment Opportunity Commission (EEOC), the federal agency announced on April 26.
The EEOC's lawsuit states that the company violated federal law by denying hire to a truck driver because he had had his arm amputated during his teenage years. The driver had more than 20 years of experience driving trucks when he applied to work for the company. The company made an assessment, without evidence or proof, that there was no accommodation that would allow the driver to do the job safely, and failed to engage in an interactive process.
Such alleged conduct violates the Americans with Disabilities Act (ADA). The ADA requires employers with 15 or more employees to provide qualified individuals with disabilities an equal opportunity to benefit from the full range of employment-related opportunities available to others. The provisions apply to employees as well as applicants.
According to the EEOC, the company has denied the allegations in the agency's suit. By agreement between the parties to resolve the matter without resort to lengthy litigation, the EEOC filed its lawsuit on April 24, 2017, in U.S. District Court for the Northern District of Texas in Amarillo. Concurrent with that filing, the parties also jointly filed a settlement by consent decree with the court.
EEOC Senior Trial Attorney Joel Clark noted that the settlement was negotiated before the parties engaged in extended litigation or pretrial discovery.
Under the consent decree settling the suit, the company will pay the driver $65,000. In addition, the decree enjoins the company from engaging in disability discrimination in the future. Further, the decree requires the company to train its managers with respect to the ADA's requirements and to report complaints of disability discrimination to the EEOC.
---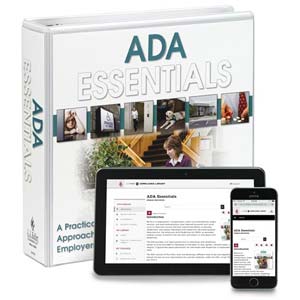 J. J. Keller's ADA Essentials Manual reviews Americans with Disabilities Act (ADA) guidelines and provides plain-English explanations to help you stay in compliance.
---
J. J. Keller's FREE HRClicks™ email newsletter brings quick-read human resources-related news right to your email inbox.