New research sheds light on DOT medical exam process
Posted April 19, 2017
A new report has raised concerns about quality, costs, and delays in the medical certification process for commercial drivers.
Three years after rollout of the National Registry of Certified Medical Examiners (NRCME), the American Transportation Research Institute (ATRI) and Mayo Clinic surveyed over 900 drivers, 300 motor carriers, and 1,200 medical examiners to better understand the impacts that the NRCME has had on the trucking industry.
The survey found that 63 percent of drivers faced higher costs for their exams since the NRCME was established, with almost 40 percent having to pay $75 to $124 out-of-pocket.
Delays in the certification process — such as those caused by requests for additional testing — were identified as a significant concern for both motor carriers and drivers.
Other survey findings include the following:
Despite additional costs, only 6.2 percent of drivers reported improved exam quality after NRCME implementation.
26.6 percent of drivers reported spending 20 minutes or less with their examiner, with 6.5 percent of those drivers spending 10 minutes or less. Drivers certified by chiropractors were more likely to have important medical checks omitted, ATRI claims.
Among the 5.9 percent of drivers who were not issued a medical certificate on the day of their physical exam, 22.6 percent cited having a medical condition that required treatment before certificate issuance as the reason.
Motor carriers still have significant concerns related to the medical certification process, including delays caused by examiner requests for additional medical documentation, driver confusion over how regulatory changes impact the ability to hold a valid medical certificate, and concerns with the competency of examiners.
Nearly 50 percent of motor carriers reported that they specify which examiner their drivers see, to ensure medical exam quality.
Less than one percent of carriers reported no major concerns with the medical certification process.
The ability of drivers to find an examiner close to where they live may be more challenging in the future as 15.3 percent of examiners reported that they have quit performing DOT physicals or plan to quit performing DOT physicals.
"The data show a polarity in quality of medical examiners," said Clayton T. Cowl, MD, MS, Chair of Mayo Clinic's Division of Preventive, Occupational and Aerospace Medicine. "Those examiners who are performing only minimal examinations may have received substandard training or are not taking their role seriously."
Cowl says motor carriers and medical examiners should communicate with drivers before their exams to make sure the medical examiners are provided with all necessary paperwork to make a certification decision.
The NRCME was established in May 2014 and was designed to improve the physical exam process and ensure that medical examiners understand DOT regulations and guidance for issuing medical certificates.
ATRI is a not-for-profit research organization serving the trucking industry.
---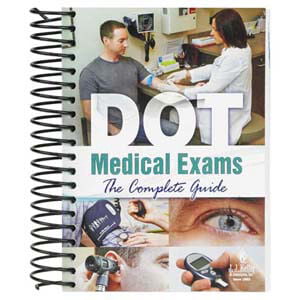 J. J. Keller's DOT Medical Exams: The Complete Guide is a comprehensive medical exam reference for motor carriers, drivers and medical professionals.
---
J. J. Keller's FREE Transportation SafetyClicks™ email newsletter brings quick-read safety and compliance news right to your email box.