FMCSA to assist manufacturers with ELD specifications
Posted April 6, 2017
As the electronic logging device (ELD) mandate draws closer, manufacturers have been given the opportunity to discuss the finer points of ELD requirements.
The Federal Motor Carrier Safety Administration (FMCSA) is holding a public meeting to discuss ELD technical specifications. The agency will use the venue to elaborate on Appendix A to Subpart B of Part 395, "Functional Specifications for All Electronic Logging Devices (ELDs)."
The meeting is scheduled May 9, 2017, from 9:30 a.m. to 1:30 p.m., Eastern Time (E.T.) at the U.S. DOT Headquarters Building, 1200 New Jersey Avenue SE., Washington, DC.
Those interested in attending this public meeting must register by April 25, 2017. Attendees should arrive at the U.S. DOT Headquarters Building by 8:30 a.m. to allow sufficient time to clear security. FMCSA requests that questions be submitted in advance to ELD@dot.gov.
Background
An ELD is a device or technology that automatically records a commercial motor vehicle (CMV) driver's driving time and aids in the accurate recording of the driver's hours of service, replacing the need for paper records of duty status (logs). Under federal rules, ELDs will be mandatory for most interstate CMV drivers by late 2017.
To be considered an ELD, the device must comply with the requirements of Part 395, Subpart B, particularly the technical specifications in Appendix A. Federal regulations for ELDs were published on December 16, 2015, with an effective date of February 16, 2016, and a compliance deadline of December 18, 2017. Under those rules, motor carriers and drivers may only use ELDs that are registered and certified with the FMCSA and listed on the agency's website, although other devices may be used until ELDs become mandatory.
---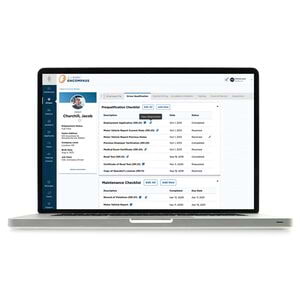 J. J. Keller® E-Logs - Compatible with iPad®, iPhone® and Android™ mobile devices. Affordable, flexible options from the nation's most respected transportation solutions provider.
---
J. J. Keller's FREE Transportation SafetyClicks™ email newsletter brings quick-read safety and compliance news right to your email box.