MSHA data indicates 2015 safest mining year on record
Posted April 19, 2016
MSHA released preliminary data for calendar year 2015, updating the "Mine Safety and Health at a Glance" page. The charts include information on inspections, violations and number of mines and miners. They also show fatality and injury rates for coal, metal and nonmetal, and all mining.
The data show that last year was the safest year in mining history, both in terms of number of deaths and fatal and injury rates. These rates are calculated based on hours of miners' exposure, a relative measure taking into account recent employment changes in the mining market.
In 2015, 28 miners died in mining accidents, down from 45 in 2014. The fatal injury rate, expressed as reported injuries per 200,000 hours worked, was the lowest in mining history for all mining at 0.0096, down from 0.0144 in 2014 and 0.0110 in 2011 and 2012.
The fatal injury rate for coal mining in 2015 was 0.0121, the lowest rate ever. The previous fatal injury rate low was set in 2011, during a period of peak employment in the coal industry.
In the metal and nonmetal mining industry, both the number of fatalities and the fatal injury rate were cut almost in half from the previous year's figures. The fatal injury rate of 0.0085 was close to the all-time low of 0.0079 set in 2012.
The all-injury rate – reported by mine operators – also dropped to a new low in 2015 at 2.28. Coal's all-injury rate fell to 2.88, the first time it dropped below 3.0. Metal and nonmetal's all-injury rate fell to a new low of 2.01.
The numbers of miners and mining operations were down in 2015, and accordingly, MSHA conducted fewer inspections. Even accounting for the decline in the number of mines, compliance improved, demonstrated by an 11 percent reduction in the number of citations and orders issued.
Assessments of penalties dropped to $62.3 million in 2015, with approximately 2 percent of violations not yet assessed.
MSHA will release a final version of the calendar year data in July.
---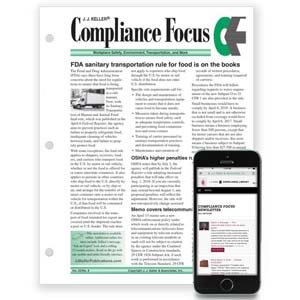 J. J. Keller's J. J. Keller's Compliance Focus helps you stay on top of critical regulatory developments from: DOT, OSHA, EPA, DOL, MSHA, EEOC, DHS and other agencies.
---
J. J. Keller's FREE Workplace SafetyClicks™ email newsletter brings quick-read workplace safety and compliance news right to your email box.