Former coal mine CEO sentenced to one year in prison and $250,000 for violating mine safety standards
Posted April 11, 2016
On April 6, 2016 a former coal mine CEO was sentenced to one year in prison and fined $250,000 by a U.S. Circuit Court judge in Charleston, West Virginia. On December 3, 2015, a jury found the CEO guilty of conspiring to willfully violate mine safety standards. The penalty is the maximum allowed by law for this offense.
On April 5, 2010, an explosion, caused when methane gas ignited and was fueled by coal dust, ripped through a mine near Montcoal, West Virginia. The explosion killed 29 miners and injured 2 more. After a two-year investigation, the federal Mine Safety and Health Administration (MSHA) concluded that the owner of the mine violated widely recognized safety standards and failed to prevent or correct numerous hazards that ultimately caused the catastrophic explosion by using advance notice of inspections and intimidation of miners to hide violations from federal inspectors. The MSHA report concluded that the corporate culture was the root cause of the tragedy.
Since the tragedy, a former security director was convicted of lying to federal investigators and ordering the destruction of evidence. Another former employee was sentenced to jail time after he was convicted of faking a mine foreman's license and lying to federal investigators. And a mine superintendent was charged with conspiracy to defraud the United States by engaging in a conspiracy to give advance notification of mine inspections, falsifying examination record books, and altering the mine's ventilation system before federal inspectors were able to inspect underground.
U.S. Secretary of Labor Thomas Perez issued the following statement about the former CEO's sentence:
"This sentence proves that no mine operator is above the law, and should send a strong signal to unscrupulous employers that skirt safety rules. No prison sentence and no amount of money can bring back the 29 men who lost their lives . . .
"That said this is a clear case of the punishment not fitting the crime. This sentence is the maximum allowable under the law, but regrettably, the criminal provisions of the Mine Act are far too weak to truly hold accountable those who put miners' lives at risk. This administration continues to support efforts in Congress to strengthen those penalties, and we stand ready to work with members who believe that no worker should lose their life for a paycheck."
---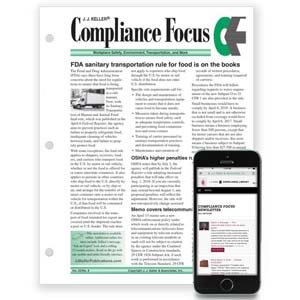 J. J. Keller's Compliance Focus helps you stay on top of critical regulatory developments from: DOT, OSHA, EPA, DOL, MSHA, EEOC, DHS and other agencies.
---
J. J. Keller's FREE Workplace SafetyClicks™ email newsletter brings quick-read workplace safety and compliance news right to your email box.