Agency restores nearly $700M to employee benefit plans, participants, and beneficiaries
Posted April 25, 2016
In a fact sheet released by the Employee Benefit Security Administration (EBSA) it shows the agency recovered $696.3 million for direct payment to plans, participants, and beneficiaries during Fiscal Year (FY) 2015.
The agency broke the total monetary recoveries down as follows:
Plan assets restored/participant benefits recovered — $265.3M
Voluntary fiduciary correction program — $14.3M
Abandoned plan program — $13.8M
Monetary benefit recoveries from informal complaint resolution — $402.9M
Total recoveries — $696.3M
The fact sheet includes the following details on EBSA's activities and investigations occurring in FY 2015.
Abandoned plans by sponsoring employers
The Abandoned Plan Program facilitates the termination of, and distribution of benefits from individual account pension plans that have been abandoned by their sponsoring employers.
During FY 2015, EBSA received 590 applications from Qualified Termination Administrators and closed 207 applications with terminations approved, with 205 plans making distributions of $13.8 million directly to participants pursuant to termination.
Money recovered due to worker complaints
In FY 2015, EBSA's Benefits Advisors closed more than 201,000 inquiries and recovered $402.9 million in benefits on behalf of workers and their families through informal resolution of individual complaints.
These inquiries are also a major source of enforcement leads. When EBSA becomes aware of repeated complaints with respect to a particular plan, employer, or service provider, or when there is information indicating a suspected fiduciary breach, the matter is referred for investigation. In FY 2015, 589 new investigations were opened as a result of referrals from benefits advisors.
Civil investigations
In FY 2015, EBSA closed 2,441 civil investigations with 1,640 of those cases (67.2%) resulting in monetary results for plans or other corrective action.
EBSA often pursues voluntary compliance as a means to correct violations and restore losses to employee benefit plans.
However, in cases where voluntary compliance efforts have failed, or that involve issues for which voluntary compliance is not appropriate, EBSA forwards a recommendation to the Solicitor of Labor to initiate litigation.
In FY 2015, 136 cases were referred for litigation. Together, EBSA and the Solicitor of Labor determine which cases are appropriate for litigation, considering the ability to obtain meaningful relief through litigation, cost of litigation, viability of other enforcement options, and agency enforcement priorities. EBSA cases referred to the Solicitor's office for litigation are often resolved with monetary payments, short of litigation. Nationwide in FY 2015, the Department filed suit in 89 civil cases.
Investigations leading to indictment
In FY 2015, EBSA closed 275 criminal investigations. EBSA's criminal investigations, as well as its participation in criminal investigations with other law enforcement agencies, led to the indictment of 61 individuals — including plan officials, corporate officers, and service providers — for offenses related to employee benefit plans.
---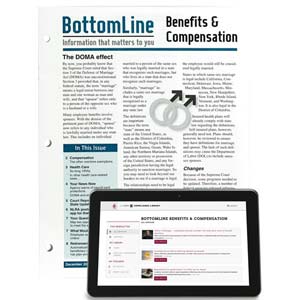 J. J. Keller's BottomLine Benefits & Compensation is an 8-page, monthly newsletter that addresses key issues relating to benefits and compensation programs.
---
J. J. Keller's FREE HRClicks™ email newsletter brings quick-read human resources-related news right to your email inbox.