Memo eases air permitting requirements for new facilities, major modifications
Posted March 16, 2018
A March 13 memorandum issued by EPA head Scott Pruitt outlines the Agency's policy for evaluating projects under the Clean Air Act's New Source Review (NSR) program. The memo claims EPA will streamline the permitting process and reduce burdens on business development and expansion, all while encouraging companies to reduce pollution.
The NSR program requires affected facilities to obtain a preconstruction permit before beginning construction of a new major source of emissions to the air or beginning major modifications to an existing facility. Determining whether an NSR permit is needed is a two-step process:
Step 1: Determining if the proposed project, by itself, will result in a significant increase in emissions to the air. If the answer is yes, the process moves to Step 2.
Step 2: Determining if the project, combined with other unrelated recent projects, will result in a significant net emissions increase for the region, state, or area.
According to the memo, Step 1 has been interpreted and applied inconsistently, which has prevented environmentally beneficial projects from moving forward. EPA clarified that companies may now consider projected decreases in emissions of air pollution, as well as projected emissions increases, during Step 1. If the Step 1 evaluation shows the proposed project will not result in a significant emissions increase, the project can then proceed under a state-issued minor source permit rather than the "complex multi-year evaluation to obtain a major NSR permit."
This is the third in a series of air permitting memos recently issued by EPA. The first memo, issued in December 2017, also addressed the NSR program. In it, Administrator Pruitt stated the Agency would not "second guess" an owner or operator's analysis, as long as it is done in a manner consistent with NSR requirements.
The second memo, released in January, reversed EPA's long-standing "once in, always in" policy. The new policy allows major sources of air pollution to become minor sources under certain conditions.
---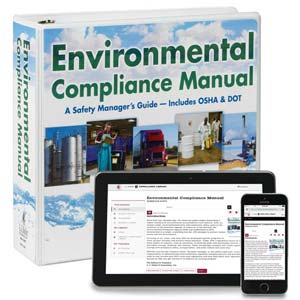 J. J. Keller's Environmental Compliance Manual is packed with easy-to-understand information on regulations, environmental issues and compliance.
---
J. J. Keller's FREE Workplace SafetyClicks™ email newsletter brings quick-read workplace safety and compliance news right to your email box.