Trucking company sued for disability discrimination, retaliation
Posted March 9, 2017
A national trucking company violated federal law when it failed to accommodate, refused to hire, and retaliated against a job candidate because he used a service dog, the U.S. Equal Employment Opportunity Commission (EEOC) charged in a disability discrimination lawsuit it filed on March 2, 2017.
According to the EEOC's lawsuit, an applicant applied for a truck driver position with the Fort Myers, Florida, company and signed up for the drivers' certification course with the company's partner training company. After being admitted to the truck driver training program, but prior to leaving to begin it, the applicant disclosed his disabilities and use of a trained service dog.
The applicant is a veteran who uses a trained service dog to help control anxiety and to wake him from nightmares caused by post-traumatic stress disorder (PTSD). The applicant successfully completed the training program, but was denied advancement to orientation and additional on-the-road training. The company told the applicant that he could not advance to the on-the-road program, which requires overnights away from home, due to the company's "no pet" policy. The applicant was subsequently denied hire.
The EEOC also alleges that around the same time that the company denied the applicant's request for accommodation, the company developed a new "Service Dog Process" to address accommodation requests seeking the use of a service dog. But the company denied the applicant the opportunity to qualify for accommodation under the new policy.
Disability discrimination violates the Americans with Disabilities Act (ADA), as amended by the Americans with Disabilities Act Amendments Act (ADAAA).
The lawsuit asks the court to order the company to hire the applicant and to pay him appropriate back pay and front pay, as well as compensatory and punitive damages. The lawsuit also seeks a permanent injunction enjoining the company from failing to provide a reasonable accommodation for disability, failing to hire an applicant due to a disability, retaliating against an applicant for seeking a reasonable accommodation, and interfering with applicants' rights under the ADAAA.
The EEOC's Chicago and Miami District offices are working collaboratively on this litigation.
---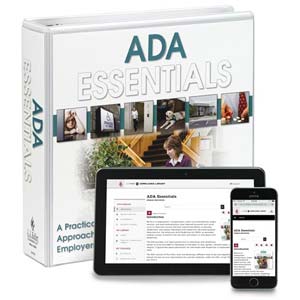 J. J. Keller's ADA Essentials Manual reviews Americans with Disabilities Act (ADA) guidelines and provides plain-English explanations to help you stay in compliance.
---
J. J. Keller's FREE HRClicks™ email newsletter brings quick-read human resources-related news right to your email inbox.