Roadcheck 2021 to emphasize HOS and vehicle lights
Posted February 5, 2021
Each year during International Roadcheck, the Commercial Vehicle Safety Alliance (CVSA), through its member jurisdictions, captures and reports data on specific areas of motor carrier compliance. This year's event will focus on two areas, hours-of-service (HOS) compliance and lighting.
Roadcheck 2021 is scheduled May 4-6. Inspectors will use the North American Standard Out-of-Service Criteria to help identify vehicle and driver-related out-of-service conditions. Vehicles that are placed out of service cannot be operated until the identified out-of-service conditions have been corrected.
Areas of focus
During last year's Roadcheck, 34 percent of driver out-of-service conditions were the result of HOS violations.
According roadside inspection data from CY 2020, HOS violations accounted for half of the top 20 driver violations. They include:
395.8E, False report of drivers record of duty status
395.8, Record of Duty Status violation (general/form and manner)
395.8AELD, No record of duty status (ELD Required)
395.24D, ELD cannot transfer ELD records electronically
395.22H2, Driver failing to maintain ELD instruction sheet
395.22H4,Driver failed to maintain supply of blank drivers records of duty status graph-grids
395.8F01, Drivers record of duty status not current
395.22G, Portable ELD not mounted in a fixed position and visible to driver
395.22H1, Driver failing to maintain ELD user's manual
395.24C2III, Driver failed to manually add shipping document number
In addition, the top two critical violations discovered during audits in 2020 were:
395.8A1, Not using the appropriate method to record hours of service
395.8E1, False reports of records of duty status
In respect to vehicle components, commercial motor vehicle lighting is consistently a concern. Section 393.9, inoperable required lamp, was the top vehicle violation discovered during roadside inspections in CY 2020, followed by inoperative turn signal (393.9TS) at number 6, and no or defective lighting devices or reflective material as required (393.11) at number 7.
How will COVID-19 affect 2021 Roadcheck inspections?
Similar to 2020 Roadcheck, enforcement will conduct inspections following regional health and safety protocols during this year's event.
Another priority during the enforcement campaign is to make sure COVID-19 vaccine shipments continue to their destination, quickly and safely. Vaccine shipments will not be held up for inspections, unless there is an obvious serious violation that is an imminent hazard.
This article was written by Kathy Close of J. J. Keller & Associates, Inc.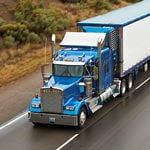 Looking for more on transportation safety?
Get the information and products you need to stay on top of industry changes and comply with regs.