DOT seeking public comments on AV 4.0
Posted February 10, 2020
The DOT and the White House Office of Science and Technology Policy (OSTP) are inviting the public to comment on the latest update of autonomous vehicle (AV) technology guidelines.
AV 4.0, titled "Ensuring American Leadership in Automated Vehicle Technologies," is the latest report intended to unify the efforts of 38 federal departments, independent agencies, commissions, and executive offices working on developing AV technology.
The report emphasizes AV concerns such as safety and security, innovation, and regulatory considerations.
Transportation Secretary Elaine Chao introduced AV 4.0 in January 2020. The DOT invited public comments on AV 4.0 starting February 6, after publication in the Federal Register.
The AV 4.0 report builds upon "Preparing for the Future of Transportation: Automated Vehicles 3.0," which was released in October 2018.
The deadline for comments is April 2, 2020. Comments can be submitted at the Federal eRulemaking Portal at docket number DOT-OST-2019-0179.
This article was written by David Lubach of J. J. Keller & Associates, Inc.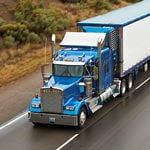 Looking for more on transportation safety?
Get the information and products you need to stay on top of industry changes and comply with regs.