EPA seeks comments on compliance initiatives
Posted February 11, 2019
EPA is soliciting public comment and recommendations on the National Compliance Initiatives (NCIs) to be undertaken in fiscal years (FY) 2020–2023. The Agency focuses enforcement and compliance resources on the most serious environmental violations by developing and implementing national program priorities, previously called National Enforcement Initiatives.
Specifically, EPA seeks comments on plans to:
Extend the following three current initiatives into the FY 2020-2023 cycle:

Cutting Hazardous Air Pollutants
Reducing Toxic Air Emissions from Hazardous Waste Facilities
Reducing Risks of Accidental Releases at Industrial and Chemical Facilities

Transition two current initiatives into new initiatives for FY 2020-2023:

"Keeping Industrial Pollutants Out of the Nation's Waters" NCI to "National Pollutant Discharge Elimination System (NPDES) Significant Non-Compliance (SNC) Reduction"
"Ensuring Energy Extraction Activities Comply with Environmental Laws." EPA proposes to transition this NCI to an initiative focused on significant sources of volatile organic compounds (VOCs) that have a substantial impact on air quality (without regard to sector), and that may adversely affect vulnerable populations or an area's Clean Air Act (CAA) attainment status. EPA also will evaluate the possibility of merging this work into the "Cutting Hazardous Air Pollutants" NCI.

Return two current initiatives to the standard "core" enforcement program:

Reducing Air Pollution from the Largest Sources
Keeping Raw Sewage and Contaminated Stormwater Out of Our Nation's Waters

Add two new NCIs:

Increase Compliance with Drinking Water Standards
Reduce Children's Exposure to Lead
Comments will be accepted until March 11, 2019. Search for Docket ID No. EPA–HQ–OECA–2018–0843 at the Federal eRulemaking Portal.
---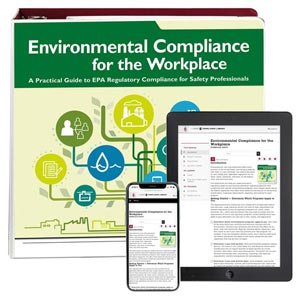 J. J. Keller's Environmental Compliance for the Workplace Manual addresses major environmental issues, including permitting, planning, and training.
---
J. J. Keller's FREE Workplace SafetyClicks™ email newsletter brings quick-read safety and compliance news right to your email box.
Sign up to receive Workplace SafetyClicks™.