Deadline extended for comments on financial assurances for hardrock mining
Posted February 28, 2017
Responding to Congressional and industry requests to delay the comment period on financial assurances for the hardrock mining industry, EPA extended the deadline until July 11, 2017.
According to EPA estimates, the proposed financial responsibility requirements could cost American businesses up to $171 million per year. However, the agency is under a court order to act on the new regulation by December 1, 2017.
The rule, proposed on January 11, 2017, would establish financial responsibility requirements under section 108(b) of the Comprehensive Environmental Response, Compensation, and Liability Act (CERCLA). It would ensure owners and operators of hardrock mining facilities have the funds necessary to clean up spills and releases, effectively preventing the costs of environmental cleanups from falling on taxpayers.
The proposed rule would adjust the amount of financial responsibility to account for environmentally safer practices, providing an incentive for mining companies to use sound practices, which in turn would decrease the need for future CERCLA actions.
The proposed rule would require owners and operators of hardrock mining facilities to:
Notify EPA that they are subject to the rule;
Calculate a level of financial responsibility for their facility using a formula provided in the rule;
Obtain a financial responsibility instrument (e.g., letter of credit, insurance, trust fund, or surety bond), or qualify to self-assure, for the amount of financial responsibility;
Demonstrate to EPA that they have obtained such evidence of financial responsibility; and
Update and maintain financial responsibility until EPA releases the owner or operator from the CERCLA section 108(b) regulations.
Submit comments, identified by Docket ID No. EPA-HQ-SFUND-2015-0781, to the Federal eRulemaking Portal.
---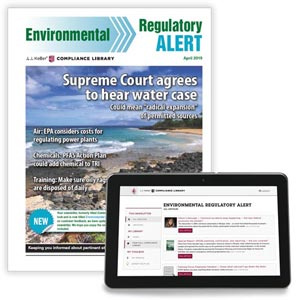 J. J. Keller's Environmental Alert: The Compliance Guide for Safety Professionals helps you stay on top of the latest environmental enforcement issues.
---
J. J. Keller's FREE Workplace SafetyClicks™ email newsletter brings quick-read workplace safety and compliance news right to your email box.