Chemical Safety Board investigates deadly hot work incident
Posted February 14, 2017
The U.S. Chemical Safety Board (CSB) sent investigators to a packaging plant in Louisiana after a February 8 explosion killed three workers and injured seven others. According to initial reports, the explosion occurred while contractors were welding a tank during a facility shutdown.
The CSB says that welding is one of several types of "hot work" — meaning spark-producing operations — that can ignite fires or explosions. Most hot work incidents result in the ignition of combustible materials or the ignition of structures or debris.
CSB Chairperson Vanessa Sutherland said, "Hot work incidents are one of the most common causes of worker deaths we see at the CSB, but also one of the most readily preventable."
To address the hazards of hot work, the CSB has issued a safety bulletin on welding and other hot work called "Seven key lessons to prevent worker deaths during hot work in an around tanks." In addition, the CSB released a safety video which examines the findings from the bulletin. Finally, the CSB added safe hot work practices to its Drivers of Critical Chemical Safety Change Program, which is a list of key chemical safety advocacy initiatives.
---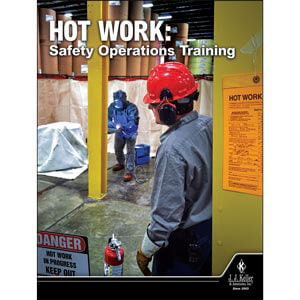 J. J. Keller's Hot Work: Safety Operations Training features real-world industry professionals who drive home the dangers of hot work and the importance of using safe work practices.
---
J. J. Keller's FREE Workplace SafetyClicks™ email newsletter brings quick-read workplace safety and compliance news right to your email box.