Deadline for posting OSHA 300A Summary approaching
Posted January 13, 2020
Employers who are required to track workplace injuries and illnesses under 29 CFR 1904 must post a paper copy of the 300A Summary from February 1 through April 30. Checking to see that your Summary is posted is one of the first things an OSHA compliance officer will do during an inspection. Missing or covered Summaries could result in a civil penalty.
The Summary, which covers the previous year's recordable injuries and illnesses, must be posted in a prominent area where notices to employees are normally placed and must not be covered, altered, or defaced during that time. Note that it must be posted even if an establishment had no recordable injuries during the previous year.
The Summary must be certified by a company executive who has examined the OSHA 300 Log and verifies to the best of his or her knowledge that it is correct and complete. The regulations define a company executive as:
An owner of the company (only if the company is a sole proprietorship or partnership);
An officer of the corporation;
The highest ranking company official working at the establishment; or
The immediate supervisor of the highest ranking company official working at the establishment.
E-submission coming on March 2
Certain employers must also electronically submit information from their 300A to OSHA. This requirement applies to establishments that are already keeping OSHA injury and illness records and have 250 or more employees or have 20-249 employees and are listed by NAICS code in Appendix A to Subpart E in Part 1904.
Employers who are required to electronically submit the form must provide an Employer Identification Number and must submit their 2019 300A Summary data to OSHA by March 2, 2020, using the Injury Tracking Application on the OSHA website.
This article was written by Rachel Krubsack of J. J. Keller & Associates, Inc.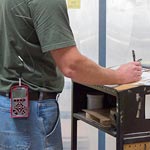 Looking for more on workplace safety?
Get the information and products you need to stay on top of industry changes and comply with regs.