It's Back: Salary rule advances in the rulemaking process
Posted January 18, 2019
On January 16, the Office of Management and Budget (OMB) received the Department of Labor's (DOL) proposed rule to determine the appropriate salary level for exemption of executive, administrative and professional employees under the Fair Labor Standards Act (FLSA).
The proposed rule will include an updated salary level for exemption and seek the public's view on the salary level and related issues.
To qualify for an executive, administrative, or professional exemption from overtime, employees must:
Be paid on a salary basis,
Be paid at least a fixed minimum salary per week, and
Perform job duties that qualify for the claimed exemption.
A rule was published in 2015, increasing the minimum salary level for exempt employees from $23,660 to $47,476. In 2017, however, it was blocked by a federal judge, indicating that the rule raised the minimum salary so high that too many individuals who performed exempt duties would still be ineligible for an exemption. According to the DOL, if the 2015 rules had taken effect as written, 4.6 million employees who were exempt from overtime would have become entitled to overtime.
Because of this, the DOL went back to the drawing board and has now come up with a new level. Some suspect the new level will be in the low- to mid-$30,000.
The OMB will review the proposed rule to ensure it meets government requirements before releasing it back to the DOL for publishing. The review will include analysis of the rule's costs and benefits and that the benefits justify the costs.
The OMB has up to 90 days for the review. There is no minimum period for review. The review period may be extended indefinitely by the head of the rulemaking agency (DOL). Alternatively, the OMB Director may extend the review period on a one-time basis for no more than 30 days. The DOL indicates that it is expected to publish the proposed rule in March.
This article was written by Darlene M. Clabault, SHRM-CP, PHR, CLMS, of J. J. Keller & Associates, Inc.
---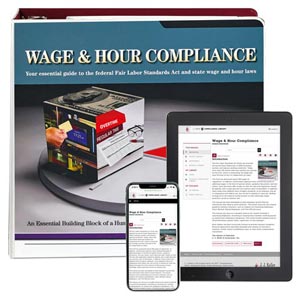 J. J. Keller's Wage and Hour Compliance with FLSA Manual provides critical info to help you comply with the Fair Labor Standards Act (FLSA) and state wage and hour laws.
---
J. J. Keller's FREE HR SafetyClicks™ email newsletter brings quick-read safety and compliance news right to your email box.