More than 20 percent of workers plan to change jobs in 2017, survey shows
Posted January 4, 2017
A new year means new beginnings, new opportunities, new resolutions, and for some workers, a new job.
According to a new CareerBuilder survey, more than one in five workers (22 percent) are planning to change jobs in 2017, similar to last year (21 percent). Among younger workers, the numbers are even higher. More than a third of workers ages 18 to 34 (35 percent) expect to change jobs in 2017, compared to 30 percent last year. This compares to 15 percent of workers ages 35 and older.
The national survey found 35 percent of workers are regularly searching for new job opportunities, even though they're currently employed — a one-point increase since last year (34 percent).
When asked what extra perks would make them more willing to join or stay with a company, the most popular choices workers pointed to include:
Half-day Fridays: 40 percent
On-site fitness center: 27 percent
Being able to wear jeans: 23 percent
Daily catered lunches: 22 percent
My own office: 22 percent
This year I will…
Aside from finding a new job, the top New Year's resolutions that workers say they're making for the office this year are:
Save more of my pay: 49 percent (vs. 38 percent last year)
Be less stressed: 38 percent (vs. 28 percent last year)
Get a raise or promotion: 30 percent (vs. 26 percent last year)
Eat healthier at work: 28 percent (vs. 19 percent last year)
Learn something new (take more courses, training, seminars): 26 percent (vs. 17 percent last year)
Survey methodology
This survey was conducted online within the U.S. by Harris Poll on behalf of CareerBuilder among 3,411 employees ages 18 and over (employed full-time, not self-employed, non-government) between November 16 and December 6, 2016. Percentages for some questions are based on a subset, based on their responses to certain questions. With a pure probability sample of 3,411, one could say with a 95 percent probability that the overall results have a sampling error of +/- 1.72 percentage points. Sampling error for data from sub-samples is higher and varies.
---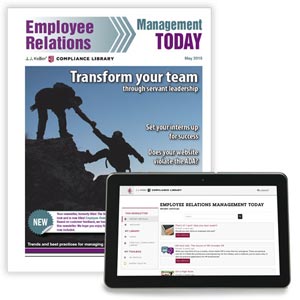 The SUPER adVISOR™ newsletter contains four pages dedicated to the HR manager and a corresponding four-page pullout dedicated to the needs of supervisors.
---
J. J. Keller's FREE HRClicks™ email newsletter brings quick-read human resources-related news right to your email inbox.