Final Beryllium rule is released
Posted January 9, 2017
OSHA's finalized Occupational Exposure to Beryllium rule is now available. The rule amends existing and adds three comprehensive standards for occupational exposure to beryllium and beryllium compounds. The agency has determined that employees exposed to beryllium at the previous permissible exposure limits (PELs) face a significant risk of physical impairment to their health. Specifically, exposed employees are at risk of developing chronic beryllium disease and lung cancer.
Beryllium is a grey metal that is stronger than steel and lighter than aluminum. It is used industrially in three forms: as a pure metal, as beryllium oxide, and most commonly, as an alloy with copper, aluminum, magnesium, or nickel.
What is changing?
In the final rule, OSHA establishes new PELs for beryllium of 0.2 micrograms of beryllium per cubic meter of air (0.2 μg/m3) as an eight-hour time-weighted average (TWA) and 2.0 μg/m3 as a short-term exposure limit (STEL) determined over a sampling period of 15 minutes.
In addition to the PELs, the rule includes several provisions to help protect employees:
Exposure assessment,
Methods for controlling exposure,
Respiratory protection,
Personal protective clothing and equipment,
Housekeeping,
Medical surveillance,
Hazard communication, and
Recordkeeping.
OSHA is issuing three separate standards — for general industry, for shipyards, and for construction — in order to tailor requirements to the circumstances found in these sectors. There are, however, numerous common elements in the three standards.
The final rule also provides an exemption for materials containing less than 0.1 percent beryllium by weight only where the employer has objective data demonstrating that employee exposure to beryllium will remain below the action level of 0.1 μg/m3 as an eight-hour TWA under any foreseeable conditions.
The revisions affect the air contaminants standards at 29 CFR 1910.1000, 1915.1000, and 1926.55. The rule also adds new comprehensive standards for beryllium at §§1910.1024 (for general industry), 1915.1024 (for shipyards), and 1926.1124 (for construction).
When are the changes effective?
Compliance dates for specific provisions are set in §1910.1024(o) for general industry, §1915.1024(o) for shipyards, and §1926.1124(o) for construction. The final rule is effective 60 days after publication. All obligations for compliance commence one year after the effective date, with two exceptions:
The obligation for change rooms and showers commences two years after the effective date; and
The obligation for engineering controls commences three years after the effective date.
Where to find more information?
Look for the new rule in the January 9, 2017, Federal Register.
---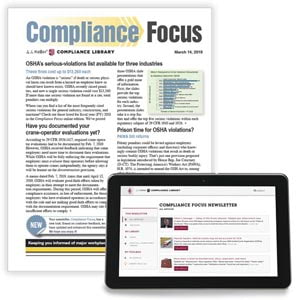 J. J. Keller's Compliance Focus helps you stay on top of critical regulatory developments from: DOT, OSHA, EPA, DOL, MSHA, EEOC, DHS and other agencies.
---
J. J. Keller's FREE Workplace SafetyClicks™ email newsletter brings quick-read workplace safety and compliance news right to your email box.