Construction stormwater permit takes effect next month
Posted January 20, 2017
On January 11, 2017, EPA issued the 2017 stormwater Construction General Permit (CGP) under the National Pollutant Discharge Elimination System (NPDES). The current (2012) CGP expires at midnight on February 16, 2017, and the new permit takes effect the same day.
EPA says that during this time, web content for each permit will be online. Web content for the 2017 CGP will include the new permit and factsheet initially, with supporting documents to be added soon. Web content for the 2012 CGP will remain online only until the permit expires.
The NPDES stormwater program requires permits for discharges from construction activities that disturb one or more acres, and discharges from smaller sites that are part of a larger common plan of development or sale.
Construction stormwater permits include:
Effluent limits for erosion and sediment control,
Pollution prevention, and
Site stabilization.
Most states are authorized to implement the NPDES stormwater program, including for regulated construction stormwater discharges. EPA's 2012 and 2017 permits apply only in the handful of states where EPA remains the permitting authority. Many states have additional permitting requirements covering construction stormwater activities.
EPA 2017 CGP coverage is available for operators of eligible construction activities in the following areas:
Idaho, Massachusetts, New Hampshire, New Mexico, and the District of Columbia;
American Samoa, Guam, Johnston Atoll, Midway and Wake Islands, Northern Mariana Islands, and Puerto Rico;
Indian Country lands within Alabama, Alaska, Arizona, California, Colorado, Connecticut, Florida, Idaho, Iowa, Kansas, Louisiana, Massachusetts, Michigan, Minnesota, Mississippi, Montana, Nebraska, Nevada, New Mexico, New York, North Carolina, North Dakota, Oklahoma, Oregon, Rhode Island, South Dakota, Texas, Utah, Virginia, Washington, Wisconsin, and Wyoming;
Areas within Colorado, Delaware, Vermont, and Washington subject to construction by a federal operator; and
Limited areas of Oklahoma and Texas.
Companies that intend to seek coverage under EPA's 2017 CGP must submit a Notice of Intent (NOI) using the NPDES eReporting Tool for the CGP certifying they meet the permit's eligibility conditions.
---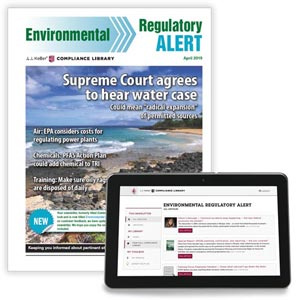 J. J. Keller's Environmental Alert: The Compliance Guide for Safety Professionals helps you stay on top of the latest environmental enforcement issues.
---
J. J. Keller's FREE Workplace SafetyClicks™ email newsletter brings quick-read workplace safety and compliance news right to your email box.