NTSB unveils 2016 list of most-wanted safety improvements
Posted January 15, 2016
The National Transportation Safety Board (NTSAB) unveiled its 2016 Most Wanted List of transportation safety improvements on January 13, calling it a "road map from lessons learned to lives saved." The list focuses on 10 broad safety improvements on which the NTSB has made recommendations that have not yet been implemented.
According to the NTSB, several items on the list demonstrate how technology could help in saving lives, preventing accidents, and lessening the number and severity of injuries from accidents. For example, the list calls for promoting both the availability of collision avoidance technology in highway vehicles, and the completion of rail safety initiatives to prevent accidents. The list also calls for strengthening occupant protection in all modes of transportation, including laws mandating primary enforcement of seatbelt use, and age-appropriate child restraints.
The NTSB reports that twenty years ago it issued its first recommendation on the use of technology to prevent rear-end collisions. The agency says the implementation of this technology could significantly reduce motor vehicle crashes — the leading cause of death and injuries in transportation. Although federal regulators have made progress toward including such technologies in the 5-star safety rating on new vehicles, the NTSB advocates including such new technologies as standard equipment on all new highway vehicles — including commercial vehicles — just as airbags and seatbelts are now standard equipment.
According to the agency, distraction (especially from portable electronic devices) and fatigue continue to be serious safety issues in all modes of transportation, and the NTSB's 2016 Most Wanted List addresses these concerns. The list also notes that undiagnosed and untreated medical conditions have caused or contributed to accidents and calls for operators and regulators to require medical fitness for duty.
The NTSB states that impairment is also an issue in all modes of transportation. The agency has recommended lowering the legal limit on blood alcohol content to .05 to reduce deaths and injuries on highways. However, drugs other than alcohol can also impair drivers and operators of other types of vehicles — whether these drugs are recreational, over-the-counter, or prescription.
All of these most wanted transportation safety improvements are the result of the NTSB accident investigations. According to the agency, its most powerful tool to learn safety lessons from accidents is data recorders. Thus, the list calls for their increased use in all modes of transportation.
---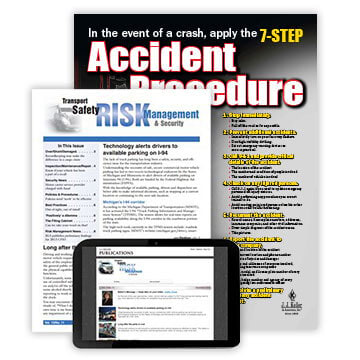 J. J. Keller's Transport Safety Risk Management & Security Newsletter keeps you up-to-date on the latest security and motor carrier safety risk management.
---
J. J. Keller's FREE Transportation SafetyClicks™ email newsletter brings quick-read safety and compliance news right to your email box.
Sign up to receive Transportation SafetyClicks™.