Fair Labor Standards Act (FLSA)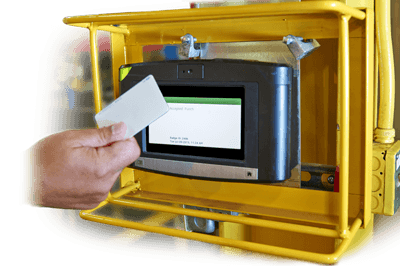 The Fair Labor Standards Act (FLSA) sets minimum wage, overtime pay, recordkeeping, and child labor standards for employment.
The regulations created to enforce those provisions span several hundred pages, so there's a lot of potential for misinterpretation and non-compliance. FLSA violations commonly involve failing to record all hours worked and wrongly classifying employees as exempt from overtime.
Nearly all employees are covered under the Fair Labor Standards Act. Along with most state laws, the Act simply defines an employee as someone who is "employed by an employer."
The FLSA does recognize a few non-employee classifications, such as volunteers for charitable organizations, independent contractors, and interns who come to the workplace for their own educational benefit. If an individual does not fit one of these non-employee categories, the worker is probably an employee.
Learn more about FLSA regulations.
News, Best Practices & Info
---
Free FLSA Whitepaper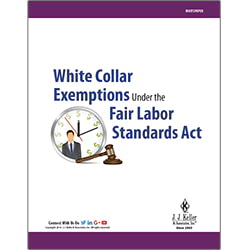 White Collar Exemptions Under the Fair Labor Standards Act
The Fair Labor Standards Act was enacted to protect workers by establishing a federal minimum wage and a 40-hour workweek, with a requirement to pay overtime after 40 hours. Some employees, however, can be exempt from minimum wage, overtime or both. Written by J. J. Keller editor Michael Henckel, this whitepaper discusses when employees can be classified as exempt under the "white collar" exemption categories.
---
Higher fines are in effect for wage violations
Fines for violations of the Fair Labor Standards Act increased on January 3, 2018. Penalties now in effect:
$1,964 for each repeated or willful violation of minimum wage or overtime laws
$12,529 for a child labor law violation
$56,947 for a child labor law violation resulting in serious injury or death
$113,894 for a willful or repeated child labor violation resulting in serious injury or death