How Do Supply Chain Issues Impact Your Business?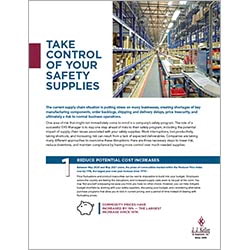 FREE Article
The current supply chain situation is putting stress on many businesses, from price insecurity and product unavailability to shipping delays and ultimately a risk to normal business operations.
Don't let supply chain instability affect your company! Turn to J. J. Keller for a solution that will ensure you have the supplies you need when you need them.
This detailed article covers how to:
Reduce potential cost increases
Be transparent about your needs
Develop business continuity
And More!
Simply complete the form at right to gain a better understanding of the supply chain issues impacting your business!