Free Whitepaper
8 Steps To An Effective OSHA Sign Program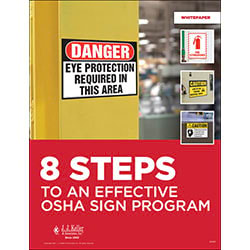 Signs play an active role in an employer's safety program to prevent injury, illness, and/or property damage. That's because signs have the power to alert, prohibit, instruct, warn, inform, and remind workers and the public. However, safety signs are not just a good idea. In many cases, they're required by OSHA for general industry, construction, maritime, and agriculture.
Written by J. J. Keller EHS Editor Tricia Hodkiewicz, our free whitepaper helps you build an effective safety sign program for the workplace or worksite. You'll learn about OSHA sign standards and assessing your signage needs. The whitepaper will go over sign elements, formats, color schemes, size, materials, posting locations, and maintenance. Worker training in signs is also addressed.
Fill out the form to learn more about safety signs and get your free copy of the 8 Steps To An Effective OSHA Sign Program whitepaper.