Free Webcast Download
Return to Work: Are You Prepared When COVID-19 Tags Along?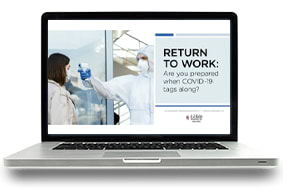 Getting back to business as usual might look a bit different post-pandemic. Whether you have employees who are subject to a quarantine or isolation order, employees who are reluctant to return to work, or you have an employee who tested positive or has related symptoms, you need to respond appropriately to keep your employee population safe, while maintaining productivity.
This webcast — recorded on June 11, 2020 — helps you put a plan in place to handle situations if or when they arise.
Fill out the form and click submit to download the webcast.