FMCSA Remote Audits Increasing Due to Pandemic.
Are You Prepared?
On May 20th, the Federal Motor Carrier Safety Administration (FMCSA) issued guidance to immediately expand the use of off-site compliance reviews for motor carriers during the COVID-19 pandemic. FMCSA use of off-site audits increased exponentially between 2018 and 2019 — over 300%.
Learn more about how an off-site audit is conducted and how you should respond with the free Fleet Manager's Guide: Preparing for a DOT Off-Site Audit. The 28-page download includes: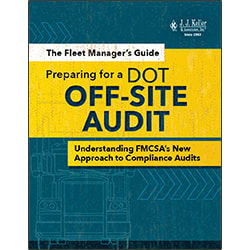 An assessment tool to determine your risk
Guidance on submitting records electronically
Additional guidance for new entrants
And much more!
Plus, receive a complimentary Compliance Review with one of our Compliance Specialists. They'll review your CSA scores with you and offer practical guidance to help you improve your scores and protect your business from an audit.
Fill out the form now to request your free download and review, and a safety & compliance specialist will follow up with you.