REG ALERT: 2024 Unified Carrier Registration (UCR) Enrollment is Open!
Filing deadline is 12/31/2023. File Now.
New Entrant Compliance Program
With the New Entrants Compliance Program, we can help you establish and prepare your DOT safety program to pass an FMCSA audit.
Read more.
As a new carrier, you must register for and receive a USDOT number, which means you are considered a "new entrant", and the Department of Transportation (DOT) will complete a safety audit within the first 18 months of operation.
As part of the New Entrant Compliance Program, a dedicated J. J. Keller® Transportation Consultant will come to your facility to help you prepare for the audit.
Each visit is customized for your company to ensure you have the documents and procedures in place for your first visit with the DOT. During this time, your consultant will visit with key personnel to discuss your current and future transportation plans, review existing operational procedures, discuss development of company-specific regulatory policies, and build a roadmap of action steps.
Guidance & Resources Included in the Service
Your dedicated transportation consultant will come to your facility to help you establish and prepare your DOT safety program. The Federal Motor Carrier Safety Administration (FMCSA) names "16 Deadly Sins" of a carrier's new entrant audit that could result in a loss of authority. We'll work with you to protect you from an unnecessary shutdown.

Below are common components of the New Entrants Safety Program that can be customized to your organization and needs:
Operating Authority and Insurance
J. J. Keller will obtain the proper operating credentials to ensure your vehicles maintain the correct authority. We'll also review your insurance limits.
Driver Qualification Files
Your consultant will work with you to understand the documents required in your DQ files based on how and where your drivers operate. If you don't have DQ files started, we'll help you gather the needed documents to ensure a complete file and qualified drivers.
Vehicle Inspection
Your consultant will visually inspect your vehicles and advise on proper markings and DOT-required safety items.
Drug & Alcohol Testing Program
Your consultant will inspect and advise on compliance with drug and alcohol testing requirements (pre-employment, random, post-accident, etc.). He or she can also validate that your supervisors' reasonable suspicion training has been completed and documented.
Hours of Service
We'll review hours-of-service regulations and the required supporting documents. We'll also help determine which drivers require electronic logging devices (ELDs) and any possible hours-of-service exemptions.
And more!
Each compliance program is tailored to your needs, so that when your consultant is at your facility, you are gaining the help you need, whether it's additional training, document review or regulatory advice.
We'll also work with you to ensure that your team has the DOT knowledge and training needed for a successful safety program.
Following each visit, we'll provide a written summary with your company's roadmap for corrective action and continuous process improvement.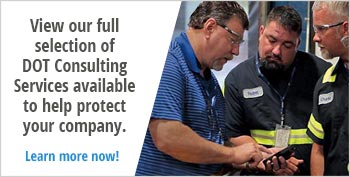 Talk with a compliance specialist today at 833-708-4633. Or, fill out this form and we'll be in touch with you soon!
DOT Authority
The first step for any new carrier is gaining the proper DOT authority. As part of the New Entrant Compliance Program, your consultant and our DOT Authority team will work with you to establish the proper credentials based on your operation.
Here are some of our common services:
Not sure which authority you need? No worries! We'll review your operation and advise on the credentials needed.
Already have your authority? Great! We'll review your credentials to ensure everything is in order and that you're operating legally.
93.8% of clients feel that our transportation consulting services have positively impacted their organization.
Product Questions & Answers