J. J. Keller® Dash Cam Pro with Encompass® Video Event Management
Dual-facing dash cam video and back-office solution for proactive driver coaching and effective risk management. Requires Encompass® Video Event Management.
Read more.
Encompass® Video Event Management and the Dash Cam Pro deliver a robust dash cam system for significant risk mitigation — AI video that protects your fleet, a robust back-office to promote skilled driving behaviors, and the most comprehensive fleet management system for DOT training and compliance.
It's a flexible dash cam solution that helps you manage risks associated with driving and accidents. It includes integrated GPS, 4G LTE connectivity, passive ADAS capabilities, powerful analytics, a remote driver coaching workflow, video recall, and more.
I'd like to learn more!
Talk with a compliance specialist today at: 855-693-5338 or fill out the form and we'll get in contact with you.
What You Get
The dual-facing Dash Cam Pro with integrated GPS and 4G LTE connection uses artificial intelligence (AI) and an embedded G-sensor to capture speeding, tailgating, cellphone use, and more. In addition, in-cab real-time audible alerts can warn drivers of dangerous behaviors.
Encompass® Video Event Management provides a time-saving video event workflow with video event scoring, a driver coaching workflow for improved communication of events with drivers, insightful analytics, the Court Reporter™ Event File Manager for impeccable recordkeeping, and optional award-winning J. J. Keller® Training.
The Driver Coaching Workflow delivers improved training ROI by allowing fleet professionals to share videos and provide coaching with drivers using their smartphones.
Solution Options
The Essential Video Profile provides the following features:
Road-facing wide-angle HD G-sensor-triggered video captures forward collisions, tailgating, and harsh acceleration, cornering, and braking events.
Driver-initiated manual event capture
Optional audible real-time in-cab alerts of dangerous driving behaviors
Powerful back-office dashboard includes:

Video Event Workflow for review, scoring, and tracking
Integrated driver review and comment process
Continuous recording to the dash cam SD card (engine on)
Video event storage in the cloud
Court Reporter™ File Manager
Video Recall feature
Encompass® Essential Vehicle Profile

DOT vehicle compliance with the Encompass® Fleet Management System and optional J. J. Keller® award-winning training
Highly-secure network and uses the latest encryption, penetration, and threat testing
24/7 driver support
The Advanced Video Profile includes all the Essential Video Profile features, plus:
Driver-facing AI-triggered video captures cellphone use, fatigued driving, seat belt use, and if the driver covers the camera
The Premium Video Profile includes both the Essential Video and Advanced Video Profile features, plus the ability to add:>
Interior Cargo/Utility cameras
Exterior-rated Cargo/Utility cameras
Exterior-rated side-view cameras
Solution Overview
Encompass® Video Event Management with the Dash Cam Pro offers:
AI AND G-SENSOR TRIGGERED VIDEO EVENT CAPTURE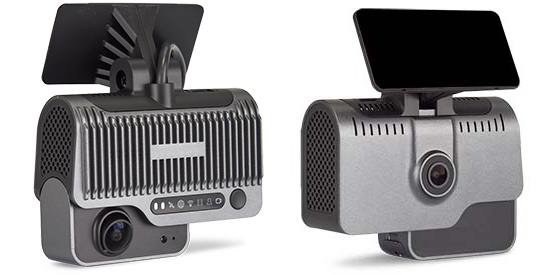 The Dash Cam Pro offers automated video event capture of risky driver- and road-facing behaviors on video using AI and an embedded G-sensor. Captured behaviors include:
Forward collision
Tailgating
Distracted driving
Fatigued driving
Harsh acceleration, cornering, and braking
Cellphone use
Seat belt use
Driver-view obstructed
Optional Passive ADAS Monitoring provides audible alerts for drivers based on AI-triggered events. The Dash Cam Pro continuously records (when the ignition is on) video on a 128GB TF card. Video events are securely shared to the cloud for review on the Encompass® Video Event Management System.
AN INTUITIVE, SECURE BACK OFFICE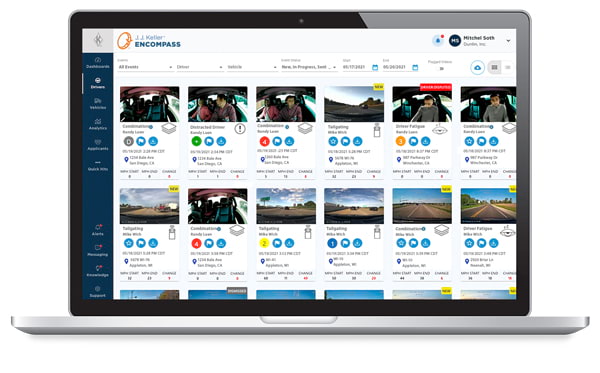 The Encompass® Video Event Management System receives the events from the Dash Cam Pro and organizes them on a highly intuitive dashboard. Its proprietary algorithm reduces false positives and prioritizes the riskiest events for your immediate attention, saving you time and ensuring a quick response to accidents and poor driving. Encompass Video also helps you protect your fleet and drivers with detailed recordkeeping in case of litigation. The Court Reporter™ Event File Manager is an exhaustive audit trail of every interaction with a video record — who watched and downloaded the video; actions taken to score, share, and change status; and keystrokes and mouse clicks.
All video and data are protected on a highly secured network using the latest encryption, penetration, and threat testing.
AN INTELLIGENT REMOTE DRIVER COACHING WORKFLOW
Maximize the impact of your coaching by shortening the time between a risky driving event and coaching with the Driver Coaching Workflow. This seamless process supports near real-time sharing of video and feedback to the driver using a web-based application. In addition, Encompass tracks the engagement between the carrier and the driver, ensuring documentation of your corrective actions and reducing your risk of litigation.
OPTIONAL VIDEO REVIEW SERVICE
Get deeper insights from your Encompass® Video Event Management System with the J. J. Keller® Video Review Service. Let our experts review your video events, prioritize the riskiest behavior, and recommend corrective action training. The video review service allows you to focus on your core business and your drivers, while our team handles the time-consuming task of reviewing individual driver videos for risks to your business. Learn more.
Dash Cam Features
Dual-facing HD Dash Cam Pro Specs
DSC: 1080P @ 20 FPS; ADAS 5 MP @ 20 FPS
Integrated GPS and 4G LTE connection
GPS L1 1575.42 MHz; BDS B1 1561.098MH; GALILEO E1B/C1; GLONASS L1OF 1602MHz; SBAS: WAAS, EGNOS, MSAS, GAGAN
2-channel video (default: 2 channels) + 1-channel audio
Infrared Technology (IR) (advanced and premium subscribers)
Video Coding H.264/H.265
128GB microSDXC card (capacity to expand to 256GB)
9-36 Volt
Angle of view is 110° degrees and 70m vehicle detection
Aluminum alloy shell construction
Operating temperature range -104°F to 158°F
5.28" L x 4.8" W x 1.9" H
0.4 lbs.
What's in the Box for Dual-facing HD Dash Cam Pro
Dash Cam PRO with 128GB microSDXC card
SIM card to support 4G LTE cellular
Primary mounting bracket
Power cord
Tiedown square and tie wrap
Alcohol wipe
Allen wrench
Installation tool and screws
USB adapter cable
Dash Cam Videos
Night Driving Road Facing
Product Questions & Answers