Interested in learning more about this service? Call
833-708-4633

to talk with a compliance specialist today!
DOT Compliance & Safety Program Management Service
Improve DOT compliance & fleet safety with ongoing regulatory guidance & resources.
Read more.
The J. J. Keller® DOT Compliance & Safety Program Management Service puts you in direct contact with an experienced safety consultant who will provide world-class compliance expertise for your fleet.
Your consultant will help you achieve 100% compliance, working with you on-site at your facilities and providing unlimited phone and email support between visits. You'll get respected compliance and best-practice expertise, without the on-staff expense.
The DOT Compliance & Safety Program Management Service subscription is one of the reasons ALM's Consulting magazine has recognized J. J. Keller Consulting as a Fastest Growing Firm every year since 2015.
We've improved clients' CSA scores by an average of 47%!
Overall Benefits
5 Great DOT Consulting Subscription Benefits: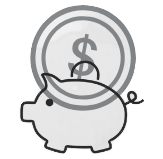 Great Value
Get significant savings compared to purchasing the program components separately. Plus, lots of extras!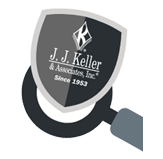 Audit Protection
Reduce your chance of a CSA intervention or DOT audit. But, if one does occur, J. J. Keller guides you through each step.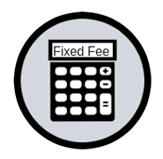 Predictable Expense
No surprises when it comes to billing. With a fixed monthly fee, you know what to expect and can plan for it.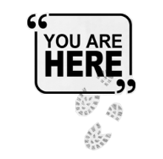 Customized Road Map
Receive a customized road map with recommendations & instructions tailored to your specific needs to achieve 100% compliance.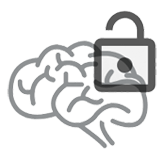 Access to Expertise
Gain immediate access to world-class regulatory compliance expertise, but without the on-staff expense.
93.8% of clients feel that our consulting services have positively impacted their organization.
Guidance & Resources Included in the Service
Choose the amount of expert involvement you want—monthly, bi-monthly or quarterly—by bundling only the services and resources you need into one program. We're ready to help you develop a world-class compliance & safety program.
On-Site Assessment
Your initial compliance assessment goes well beyond a traditional DOT audit by using four in-depth examinations:
Compliance Audit
A thorough FMCSR audit and scoring of your fleet's acute and critical patterns of violations.
Safety Management Assessment
A 42-part assessment of your company's management controls.
CSA Performance Review
A summary of your current CSA BASIC results and trends.
Best Practice Evaluation
An evaluation of your application of industry best practices.
Based on the results of your compliance assessment, your fleet will be scored in approximately 550 different safety and compliance areas. This produces a J. J. Keller® Performance Rating report to indicate in great detail your fleet's compliance & safety performance. Use this to benchmark future progress or the performance of your various locations.
DOT Audit Support
Audits happen. We can help. We commonly help motor carriers through DOT audits or interventions. This includes help with a Corrective Action Plan, a Cooperative Safety Plan or a formal request to upgrade your safety rating.
Training
Your consultant will develop a custom training plan and curriculum, including identifying who needs to be trained on what topics. The consultant will then conduct the training in the format(s) that best fit your needs. Plus, with J. J. Keller® Online Training Points, you can conveniently assign drivers or managers access to complete courses on their own schedule.
A few of our most popular topics include:
DOT safety compliance
Hours of service
Cargo securement
Entry-level driver training
Reasonable suspicion training
Safe & smart driver training
Policy, Procedure & Process Review
Consistent policies and procedures are the foundation of your business. Your consultant will provide a review of current policies and processes, with guidance on additional needs or suggested edits to fill compliance gaps. These updates can all be performed by the consultant during your ongoing support hours.
Popular policies include:
Hours of service
DOT drug & alcohol policy
Defensive driving
Accident investigation
Driver vehicle inspections
ELD property-carrying drivers
Personal Conveyance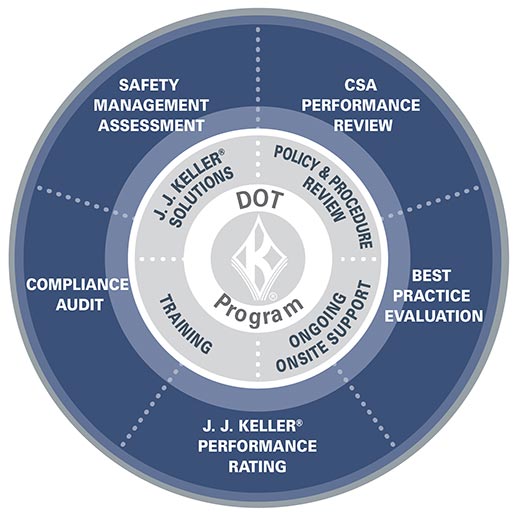 Additional Ongoing Support
Unlimited phone and email support — Get your regulatory questions answered.
Custom compliance & safety program development calendar — Your consultant will create a plan of activities, owners of action items, and a timeline for work to be completed.
Client Newsletter — Monthly regulatory updates with information from the J. J. Keller® content library.
Monthly regulatory webcasts — Presentations delivered by J. J. Keller® subject-matter experts.
J. J. Keller® FleetMentor® Service subscription — Online fleet advisory tool will help you proactively manage compliance.
Keller-Permits® Service — Receive special pricing on oversize/overweight, trip and fuel permits.
Discounted pricing on most of our products — Thousands of compliance & safety products available.
We've improved clients' CSA scores by an average of 47%!
FAQs
Where are your consultants located?
Our team of safety consultants are located throughout the country.
How often do you come to my business?
The DOT Safety & Compliance Program is customized to your business. The number of on-site days is dependent upon your need. Contact a compliance specialist today for a better understanding of the programs we offer.
What experience do your consultants have?
Our consultants have decades of real-world experience in nearly every industry, and at well-known national brands. This experience allows them to understand each client's operations and objectives, and then build a solution to deliver the results they need.
I'm going to start hauling hazmat. What do I need to do?
J. J. Keller offers a suite of hazardous materials services. Our consultants will work with you to understand your hazmat business and offer recommendations regarding training, SDS management, classification and more.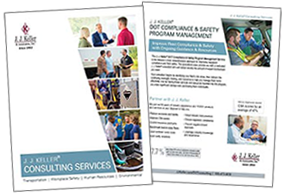 Free Consulting Services Resources
Learn more about J. J. Keller's Consulting Services, where we can help protect your company, reduce your risk and improve your safety & compliance.
Product Questions & Answers