Back to Press Releases
FOR IMMEDIATE RELEASE (November 29, 2022)
Winter 2023 Predicted to be Colder in Northern U.S., Warmer in South
J. J. Keller® SAFEGEAR® PPE Has You Covered No Matter the Weather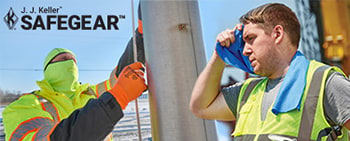 Neenah, WI - In a tale of two extremes, the National Oceanic Atmospheric Administration's (NOAA) seasonal outlook for winter 2023 includes warmer-than-average temperatures for the Southeast and Southwest, and colder-than-average temperatures for the Pacific Northwest eastward to the Great Lakes.
Similarly, NOAA predicts drier-than-average conditions in the South, Gulf Coast and much of the Southeast, and wetter-than-average weather for the Pacific Northwest, northern Rockies, Great Lakes and Ohio Valley.
Employees who work outdoors for all or part of their day need to be seen, safe, and dressed appropriately for the weather. Recognizing that temperature extremes and severe weather are becoming more common, J. J. Keller has recently expanded its high-visibility seasonal apparel to include:
thermal-lined sweatshirt
freezer jacket
women's fit parka and puffer vest
cold storage winter gloves
winter headgear such as balaclavas, neck gaiter and headband
sun hat and neck shade
"Whether your workers are dealing with sun and heat or cold and snow, they need to be visible and protected from the dangers of cold and heat stress," said J. J. Keller Editor Ray Qureshi-Chishti. "Luckily, there is a wide range of personal protective equipment available to keep them safe as well as injury- and illness-free, from insulated workwear to cooling products."
The above-mentioned seasonal items are part of a complete line of J. J. Keller™ SAFEGEAR™ PPE, which offers top to bottom protection including headwear, safety glasses, gloves, earplugs, and a vast selection of ANSI-certified high-visibility apparel, including rain gear. For more information, visit JJKeller.com/SAFEGEAR
J. J. Keller & Associates, Inc.
Since we began as a family-owned company in 1953, our purpose at J. J. Keller & Associates, Inc. has been to protect people and the businesses they run. Today, serving 500,000+ companies across North America, our associates are proud to make a larger impact than ever. Transportation, construction and industrial organizations of all sizes rely on our expert insights to help create safe work environments and simplify complex government regulations. They trust in our comprehensive portfolio of solutions, including cloud-based management tools, training, consulting, professional services, publications, forms, PPE and safety supplies.
Safety professionals rely on J. J. Keller's experts, products and services to reduce risk and improve regulatory compliance, performance management, and operational efficiency. For more information, visit JJKeller.com.
For more information, contact: