Back to Press Releases
FOR IMMEDIATE RELEASE (March 27, 2020)
Who Qualifies for the Hours of Service Emergency Exemption for COVID-19 Relief Efforts?
J.J. Keller's Free Training Helps Carriers Understand How the Exemption May Apply to Them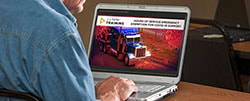 Neenah, WI - Certain motor carriers and drivers aiding in the coronavirus 19 (COVID-19) relief effort are now exempt from various federal motor carrier safety regulations — including hours of service. As part of its commitment to serving its customers, J.J. Keller & Associates, Inc. is offering a new training program — free of cost — to help them understand this time-sensitive change.
Hours of Service: Emergency Exemption for COVID-19 Support is available in both streaming video and online training formats, and covers:
which drivers are eligible to use the hours-of-service emergency exemption
categories of supplies that are considered critical
limitations of the exemption
when the exemption no longer applies
how to document using the exemption
Homeland Security's list of essential critical infrastructure workers
ways to keep drivers safe
"Drivers are our first responders, keeping the nation's supply chain open and safe," said Richard Malchow, industry business advisor at J.J. Keller. "As we ask them to go into harm's way, we need to support them. This course helps us to help them."
For more information, visit JJKellerTraining.com/208449.
About J.J. Keller & Associates, Inc.
J. J. Keller & Associates, Inc. is the most respected name in safety and regulatory compliance. Since its beginning as a one-man consulting firm in 1953, the company has grown to over 1,500 associates serving more than 600,000 customers — including over 90% of the Fortune 1000® companies. The company's subject-matter expertise spans nearly 1,500 topics, and its diverse solutions include ELogs and mobile technology; training via online courses, streaming video or DVD; online management tools; managed services; consulting services; online and print publications; forms and supplies.
Transportation professionals rely on J. J. Keller's in-house expertise and wide selection of products and services to reduce risk and improve regulatory compliance, performance management, and operational efficiency. For more information, visit www.jjkeller.com.
For more information, contact: