Press Room
News Releases
FOR IMMEDIATE RELEASE (October 6, 2015)
Three-Time Iditarod Champion Dallas Seavey Joins J. J. Keller At Transportation Event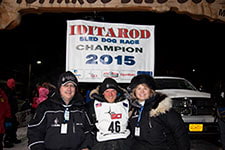 Neenah, WI – Preparing drivers today for tomorrow's E-Log compliance requirements. This type of forward-thinking is one example of how J. J. Keller & Associates, Inc. is helping transportation companies ready their compliance programs for the coming E-log mandate, using the latest technology and innovation.
J. J. Keller has a history of recognizing and providing innovation in transportation. Nine years ago, James J. and Rosanne Keller saw potential and an innovative spirit in Dallas Seavey and helped provide him with the tools necessary to attain success in a different type of transportation environment … the extreme world of championship sled dog mushing.
Two modes of transportation will meet when Seavey, three-time Iditarod winner and reigning champion, joins J. J. Keller & Associates, Inc. at the 2015 ATA Management Conference & Exhibition in Philadelphia, Penn., October 18-20 (Booth Number 1001).
Seavey, joined by James J. Keller, will be at the conference to share stories of how he developed a winning strategy by using technology, innovation and common sense to push the boundaries of mushing. Seavey and Keller will also sign copies of Iditarod-related publications, including Born To Mush, the book they co-authored.

"I'm excited to join J. J. Keller at the ATA conference," Seavey said. "I look forward to sharing my story with forward thinkers in the transportation industry."
Prior to the conference, Seavey will stop at J. J. Keller & Associates, Inc. corporate headquarters in Neenah, Wis. J. J. Keller associates will have the opportunity to hear about the world of mushing and the Seavey family's legacy. Seavey will provide an update on his mushing career and how his drive for success and unique racing strategy have propelled him to three first-place finishes.
Seavey will also discuss his latest innovation, a new training facility he has added to his Willow, Alaska, kennel. The J. J. Keller/Dallas Seavey Iditarod® Racing Team Indoor Sled Dog Training Center houses a 50-foot treadmill and simulates winter temperatures. It will extend Seavey's sled dog training into the summer months when it is typically too hot for sled dogs to complete long runs.
"Dallas has grown into a racing champion and represents both the sport of mushing and J. J. Keller well," said James Keller. "His tenacity and competitive drive have propelled him forward as he experiments with technology and new ways of training and racing in order to stay ahead of the pack. 2016 is sure to be an exciting continuation of his career, and we look forward to experiencing the journey with him."
Note to editors:
James J. Keller is available for comments and background information. Please contact Mary Borsecnik (contact info below) to arrange an interview.
About Dallas Seavey
Dallas Seavey ran his first Iditarod in 2005, the day after he turned 18 (the minimum age to enter), making him the youngest musher to participate in the race. Since then, he has broken a number of Iditarod records:
2015 Youngest musher to win 3 Iditarod championships – age 28
2014 Iditarod record finish (8 days, 13 hours, 4 minutes, and 19 seconds)
Youngest musher to win 2 Iditarod championships – age 27
2012 Youngest musher to win the Iditarod – age 25
2011 Youngest musher to finish the race in a top five position – 4th place, age 24
2010 Youngest musher to win the GCI Dorothy Page Halfway Award –age 23
2009 Youngest musher to finish the race in a top 10 position – 6th place, age 22
2005 Youngest musher to compete in the race – age 18
About J. J. Keller
Since its beginning as a one-man consulting firm in 1953, J. J. Keller & Associates, Inc. has grown to become the most respected name in safety and regulatory compliance. Now over 1,400 associates strong, J. J. Keller serves over 420,000 customers — including over 90% of the Fortune 1000® companies. The company's subject-matter expertise spans nearly 1,500 topics, and its diverse solutions include E-Logs and mobile technology; training via online courses, streaming video or DVD; online management tools; managed services; consulting services; online and print publications; forms and supplies.
Transportation professionals rely on J. J. Keller® in-house expertise and wide selection of products and services to reduce risk and improve regulatory compliance, performance management and operational efficiency. For more information, visit JJKeller.com.
For more information, contact:
Mary Borsecnik
Corporate Marketing Communications Specialist
J. J. Keller & Associates, Inc.
1-800-843-3174, ext. 7050
Email: mborsecnik@jjkeller.com