Back to Press Releases
FOR IMMEDIATE RELEASE (October 27, 2018)
Technology Day at J.J. Keller Celebrates Innovation That Makes a Difference
Associates and community members focused on technology advancements at 4th annual event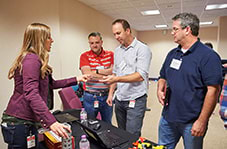 Neenah, WI - More than 20 area educators and influencers joined more than 200 associates from J.J. Keller & Associates, Inc. for the company's fourth annual Technology Day yesterday. This one-day event, on the J.J. Keller Corporate Campus in Neenah, Wisconsin, brings together the company's associates, community educators and influencers to network, hear about technology trends, experience innovation firsthand and celebrate J.J. Keller's technology professionals.
"J.J. Keller offers solutions so companies can keep their employees safe and comply with complex regulations. Today, literally every solution we produce has technology embedded in it," said Rustin Keller, J.J. Keller president and CEO. "We're not a technology company, but we're technology-savvy. It's impressive what our associates have accomplished to use technology in meeting customer challenges."
In line with the purpose of bringing together bright minds, innovation and thought leadership, J.J. Keller brought in keynote speaker Hyunsoo Shim, chief of staff with SAP Ariba, an organization that provides the world's largest business network, cloud procurement solutions, and innovative business models to help businesses grow. Shim's talk, "1B Lives," highlighted how SAP Ariba is developing a portfolio of lean, sustainable ventures to solve social problems and improve millions of people's lives.
"What SAP Ariba is doing to help society on a global level, we do locally," said Keller. "Giving back to our community through our strengths and talents is an important part of the culture at J.J. Keller. It always has been."
On Technology Day, attendees had the opportunity to ask questions of a panel of executive leaders from J.J. Keller, heard about technology advancements from associates across the company, and visited a Product Showcase of J.J. Keller technology solutions. In addition, Fox Valley Technical College was on site in the event's Gadget Garage, where attendees could try out augmented and virtual reality (including immersive 3D 360 video), human brain computer interfaces and Sphero robots.
To learn more about J.J. Keller & Associates, Inc. and its current technology careers, visit www.jjkeller.com/careers.
About J. J. Keller & Associates, Inc.
Since its beginning as a one-man consulting firm in 1953, J.J. Keller & Associates, Inc. has grown to become the most respected name in safety and regulatory compliance. Now over 1,400 associates strong, J.J. Keller serves over 600,000 customers — including over 90% of the Fortune 1000® companies. The company's subject-matter expertise spans nearly 1,500 topics, and its diverse solutions include ELogs and mobile technology; training via online courses, streaming video or DVD; online management tools; managed services; consulting services; online and print publications; forms and supplies.
Safety professionals rely on J. J. Keller's in-house expertise and wide selection of products and services to reduce risk and improve regulatory compliance, performance management, and operational efficiency. For more information, visit www.jjkeller.com.
For more information, contact: