Back to Press Releases
FOR IMMEDIATE RELEASE (March 9, 2016)
Simplified ELog Online Ordering Now Offered by J. J. Keller & Associates, Inc.
Gives fleets a quicker, easier way to comply with the ELD mandate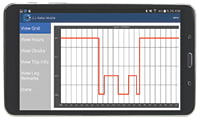 Neenah, WI - To assist fleets in complying with the electronic logging device (ELD) mandate, J. J. Keller & Associates, Inc. has enabled online ordering of their ELog solution at JJKeller.com/orderELD.
"For fleets looking for quick compliance with the mandate, this self-service option makes getting up and running with ELogs easier," said Tom Ditzler, product manager of technology services at J. J. Keller.
Using J. J. Keller's online ordering tool, customers can enter the quantity of J. J. Keller® ELDs they need and select the type(s) of ELD harnesses required. Illustrations of the different harness types help customers verify they are selecting the correct ones. Customers also receive a subscription to the ELog Edition of the J. J. Keller® Encompass® system, which enables log auditing against Part 395 of the Hours of Service regulations, includes electronic DVIRs, and will be compliant with the ELD mandate with a simple software update.
The J. J. Keller® ELDs install in less than 10 minutes using the requested harnesses and are compatible with all vehicle classes. The J. J. Keller Mobile® logging app can be downloaded for free onto nearly any driver smart device.
Additional information on the J. J. Keller® Encompass® ELog system can be found online at JJKeller.com/ELogs or by calling 855-693-5338.
About J. J. Keller & Associates, Inc.®
Since its beginning as a one-man consulting firm in 1953, J. J. Keller & Associates, Inc. has grown to become the most respected name in safety and regulatory compliance. Now over 1,400 associates strong, J. J. Keller serves over 420,000 customers — including over 90% of the Fortune 1000® companies. The company's subject-matter expertise spans nearly 1,500 topics, and its diverse solutions include ELogs and mobile technology; training via online courses, streaming video or DVD; online management tools; managed services; consulting services; online and print publications; forms and supplies.
Transportation professionals rely on J. J. Keller® in-house expertise and wide selection of products and services to reduce risk and improve regulatory compliance, performance management and operational efficiency. For more information, visit JJKeller.com.
For more information, contact:
Mary Borsecnik
Corporate Marketing Communications Specialist
J. J. Keller & Associates, Inc.
1-800-843-3174, ext. 7050
Email: mborsecnik@jjkeller.com