Back to Press Releases
FOR IMMEDIATE RELEASE (August 21, 2023)
Robust Camera Expansion by J. J. Keller Offers Fleets Greater Risk Reduction — Cargo/Utility, Rugged & Side Cameras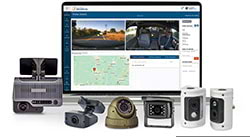 Neenah, WI - Fleets now have more ways to support their legal defense, exonerate drivers, and protect their bottom line in rear-end collisions and sideswipe crashes, both significant causes of FMCSA-defined non-preventable accidents. The four new auxiliary cameras are part of the VideoProtects® Video Event Management System and Encompass® Video Event Management System from J. J. Keller & Associates, Inc.
The addition of these auxiliary cameras to our line of dash cameras not only strengthens a fleet's commitment to driver safety and accountability," states Jason Hartwig, Sr. Product Manager-Technology Solutions at J. J. Keller & Associates Inc., "but also provides rear and side video footage that could help fleets lower their CSA Crash BASIC scores when submitted to the FMCSA Crash Preventability Determination Program (CPDP)." According to the FMCSA's Crash Preventability Determination Program Quarterly Statistics, carriers submitted nearly 40,000 preventability determination requests through the DataQs system. Of the eligible crashes submitted, 96% were deemed non-preventable and eliminated or scheduled for elimination from the carrier's CSA Crash BASIC.1
The new lineup of J. J. Keller® auxiliary cameras includes two styles of cargo/utility cameras, side view cameras, and a rugged exterior camera.
6-Pin Cargo/Utility Camera – Compact and lightweight interior camera, designed for vehicle cab and trailer placement
4-Pin Cargo/Utility Camera – Ideal for interior passenger and trailer placement, offering intelligent night vision and anti-tampering features
Side Cameras – For vehicles with side access doors, withstands rugged environments and includes driver- and passenger-side cameras and mounts
Exterior camera – IP67-rated for heavy-duty applications, providing reliable video event footage of vehicle rear and cargo areas
For more information on J. J. Keller® dash camera solutions, call 855-693-5338 or visit JJKeller.com.
1Crash Preventability Determination Program Quarterly Statistics. FMCSA. 2023. Retrieved on August 8, 2023, from fmcsa.dot.gov/safety/crash-preventability-determination-program-quarterly-statistics.
About J. J. Keller & Associates, Inc.
Since we began as a family-owned company in 1953, our purpose at J. J. Keller & Associates, Inc. has been to protect people and the businesses they run. Today, serving 500,000+ companies across North America, our associates are proud to make a larger impact than ever. Organizations of all sizes rely on our expert insights to help create safe work environments and simplify complex government regulations. They trust in our comprehensive portfolio of solutions – including ELogs, dash cams and mobile technology; driver training via online courses, streaming video or DVD; cloud-based management tools; managed services; consulting services; online and print publications; forms, PPE and safety supplies.
Transportation professionals rely on J. J. Keller's experts, products and services, including J. J. Keller® Encompass and VideoProtects® Video Event Management, to reduce risk, improve regulatory compliance, manage performance, and boost operational efficiency. For more information, visit JJKeller.com.
For more information, contact: