Back to Press Releases
FOR IMMEDIATE RELEASE (September 6, 2018)
Roadside Inspection Hotline Helps Eliminate Confusion and Save Time
Drivers using J. J. Keller® ELDs benefit from 24/7 assistance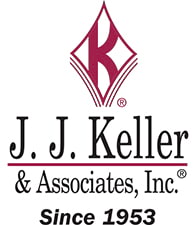 Neenah, WI - While electronic logging devices (ELDs) are designed to make it easier to record hours of service, many drivers and inspectors are still struggling to adapt to the technology during roadside inspections.
"If drivers aren't familiar with using their ELD system during a roadside inspection, the process is likely to take longer, which could lead to an inspector taking a more critical look at the driver, or the driver being late for a delivery or to a jobsite," said Mark Schedler, senior editor of transport management at J. J. Keller & Associates, Inc.
To address this challenge, J. J. Keller launched the Roadside Inspection Hotline, which is available 24/7 to drivers using J. J. Keller® ELDs, and has answered over 1,800 calls since the service began in February 2018.
"We are the 'phone-a-friend' for drivers during a roadside inspection," said Jennifer Morton, client service manager at J. J. Keller. "By quickly answering their questions, such as whether their device is operating as an ELD or AOBRD and guiding them through the proper inspection procedures, our team of over 60 Client Service Specialists reduces driver frustration, prevents violations, and minimizes downtime."
In addition to answering driver questions, the hotline's specialists assist drivers if there's an issue transferring ELog data to the inspector by emailing that data on the driver's behalf. The specialists will also speak directly with inspectors to answer their questions regarding the J. J. Keller® ELD or J. J. Keller Mobile® ELog app.
"To deliver this level of service, our Client Service Specialists participate in a 60-day training program before they work on the hotline," said Morton. "They also receive ongoing coaching to ensure they fully understand our ELD system, know the regulations, and can troubleshoot problems fast."
According to Morton, their internal processes for rapidly sharing technical issues and resolutions across the team allows specialists to diagnose and solve a driver's problem quickly, getting them back on the road as soon as possible. It's part of the reason the specialists have achieved an average 13.75 quality score on a 15-point scale based on post-call surveys.
J. J. Keller has undertaken additional initiatives to improve the driver experience during roadside inspections, including hosting a meeting in July 2018 with state enforcement and FMCSA inspectors to share how both the J. J. Keller® ELD and the ELog app work. More meetings are planned for later this year so other inspectors can be familiar with J. J. Keller's system. The company also created educational resources inspectors can use to streamline inspections with J. J. Keller® ELD users.
"When it comes to hours-of-service compliance, it's the combination of our technology paired with our world-class customer care that really makes the difference," added Morton.
For information about J. J. Keller® ELDs and their Encompass® Fleet Management System with ELogs, visit JJKeller.com/ELogs or call 855-693-5338.
About J. J. Keller & Associates, Inc.
Since its beginning as a one-man consulting firm in 1953, J. J. Keller & Associates, Inc. has grown to become the most respected name in safety and regulatory compliance. Now over 1,400 associates strong, J. J. Keller serves over 600,000 customers — including over 90% of the Fortune 1000® companies. The company's subject-matter expertise spans nearly 1,500 topics, and its diverse solutions include ELogs and mobile technology; training via online courses, streaming video or DVD; online management tools; managed services; consulting services; online and print publications; forms and supplies.
Transportation professionals rely on J. J. Keller's in-house expertise and wide selection of products and services to reduce risk and improve regulatory compliance, performance management, and operational efficiency. For more information, visit JJKeller.com
For more information, contact: