Back to Press Releases
FOR IMMEDIATE RELEASE (May 4, 2020)
Reduce Crash Risk with Practical Strategies for Combating Driver Fatigue
J.J. Keller's New Online Training Addresses Drowsy Driving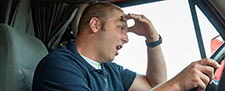 Neenah, WI - In 2017, over 90,000 police-reported crashes involved drowsy drivers. (Source: National Highway Traffic Safety Administration)
With many drivers considered essential during the pandemic and possibly working longer hours to keep up with demand, J.J. Keller & Associates, Inc. has developed a new online training course, Fatigued Driving Prevention, to help companies address this critical problem.
Applicable to commercial motor vehicle drivers as well as route/delivery drivers, salespeople, and anyone else who regularly drives during the course of their work, the online course will help drivers understand the importance of prioritizing sufficient restorative sleep for their health.
"It's imperative that all drivers remain awake and alert on the road," said Mark Schedler, senior editor of transportation management at J.J. Keller. "Giving your drivers concrete strategies they can use to prevent fatigue could very well save lives."
After completing the course, drivers will be able to:
Explain the causes and effects of fatigue
Describe the causes of poor sleep and benefits of getting proper sleep
Discuss strategies they can use to avoid driver fatigue
For more information, visit JJKellerTraining.com/Fatigued
About J.J. Keller & Associates, Inc.
J. J. Keller & Associates, Inc. is the nation's leading provider of regulatory, safety and compliance solutions, serving more than 600,000 customers, including 90% of the Fortune 1000® companies. Organizations of all sizes rely on our expert insights to help create safe work environments and simplify the complexities of regulatory compliance. Our diversified portfolio of solutions and services including online management tools, publications, training, forms, supplies, consulting and professional services is trusted to safeguard workers, reduce risk and build operational confidence. As a privately-held, family-owned company since 1953, we are committed to helping protect lives every day.www.jjkeller.com.
For more information, contact: