Press Room
News Releases
FOR IMMEDIATE RELEASE (November 11, 2015)
Two Bestselling J. J. Keller® Publications That Simplify OSHA Compliance Have Been Relaunched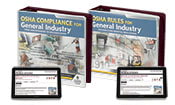 Neenah, WI - Unintentional injuries are the fifth leading cause of death in the U.S., following heart disease, cancer, chronic lower respiratory disease and stroke*. To reduce injuries in the workplace, OSHA issues safety regulations that employers must satisfy.
Because safety professionals often struggle to comply with the complex regulations, J. J. Keller & Associates, Inc., the nation's leading provider of safety and compliance solutions, has relaunched two of its bestselling publications: OSHA Rules for General Industry: 1910 and Other Essential Regulations and OSHA Compliance for General Industry: From Understanding to Implementation.
"Safety professionals often spend hours researching topics, and even then it's not clear what steps they need to take to achieve and maintain compliance," said Katy Diekfuss, director of marketing for J. J. Keller. "Together, these two publications solve this issue. OSHA Rules for General Industry makes referencing the regulations easy, and the companion OSHA Compliance for General Industry explains how to comply and build your safety program."
OSHA Rules for General Industry provides word-for-word OSHA Part 1910 regulations pertinent to key safety topics, OSHA Part 1904 injury and illness recordkeeping requirements, and OSHA Part 1903 regulations that outline the OSHA inspection and penalty process. OSHA Compliance for General Industry helps professionals quickly understand and implement programs pertaining to key topics, and provides an introduction to OSHA — including guidance on training and recordkeeping requirements — plus ez Explanations™ summaries, FAQs, safety plans and more.
Both publications are available in print format and also in online editions that provide access to their content from any mobile device. Subscribers to the online editions receive continuous updates and notifications for the most current information.
"These publications were designed to make it easier for safety professionals to do their job," said Diekfuss. "In fact, we're so dedicated to this cause that every subscription is supported by our subject-matter experts. Subscribers get direct access to the experts for answers to their toughest compliance questions."
To see the list of publications in the J. J. Keller® Compliance Library, visit JJKeller.com/publications.
The complete line of J. J. Keller® workplace safety and other solutions is available at JJKeller.com/113743 or by calling 800-327-6868.
*Source: National Safety Council Injury Facts® — 2015 Edition
About J. J. Keller & Associates, Inc.
Since its beginning as a one-man consulting firm in 1953, J. J. Keller & Associates, Inc. has grown to become the most respected name in safety and regulatory compliance. Now over 1,400 associates strong, J. J. Keller serves over 420,000 customers — including over 90% of the Fortune 1000® companies. The company's subject-matter expertise spans nearly 1,500 topics, and its diverse solutions include training via online courses, streaming video or DVD; online management tools; managed services; consulting services; online and print compliance manuals and instructional publications; E-Logs and mobile technology, forms and supplies.
Safety professionals rely on J. J. Keller® in-house expertise and wide selection of products and services to reduce risk and improve regulatory compliance, performance management and operational efficiency. For more information, visit JJKeller.com.
For more information or a high-resolution image, please contact:
Mary Borsecnik
Corporate Marketing Communications Specialist
J. J. Keller & Associates, Inc.
1-800-843-3174, ext. 7050
Email: mborsecnik@jjkeller.com