Back to Press Releases
FOR IMMEDIATE RELEASE (June 14, 2019)
Prestigious CTP® Designation Awarded to Two J.J. Keller Associates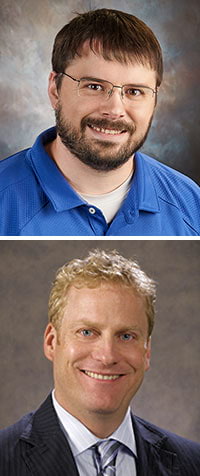 Neenah, WI - J.J. Keller & Associates, Inc. — the nation's leading provider of transportation safety and compliance solutions — has announced two additional designations of Certified Transportation Professional® (CTP) by the National Private Truck Council (NPTC), bringing the current number of J.J. Keller associates who have obtained their CTP designation to 14.
J.J. Keller associates Stephan Sage and William Lundquist were among this year's 90 honorees recognized for their achievement at the Annual Education Management Conference and Exhibition held April 14-16, 2019.
"Our associates are committed to understanding the complex challenges fleets face in order to better serve them," said Bob Larsen, senior director of research and development at J.J. Keller & Associates, Inc. and NPTC board member. "Increasing our associates' industry knowledge and experience through this designation allows us to develop innovative solutions that solve fleets' most demanding challenges."
According to NPTC Institute Board of Governors Chair Mari Roberts, the CTP designation is a benchmark of excellence earned by a special few, but available to any fleet or transportation specialist willing to make the necessary commitment of dedicated effort.
"These new Certified Transportation Professionals have demonstrated the knowledge and ability to understand complex operational and regulatory issues, identify and evaluate potential costs and savings, and develop systems and practices that best meet their company's transportation needs and objectives," said Roberts.
The CTP Class of 2019 join more than 1,700 fleet and transportation professionals who have earned the CTP designation since the program's inception in 1993. J.J. Keller & Associates, Inc. proudly sponsors the CTP program.
About J. J. Keller & Associates, Inc.
J. J. Keller & Associates, Inc. is the most respected name in safety and regulatory compliance. Since its beginning as a one-man consulting firm in 1953, the company has grown to over 1,400 associates serving more than 600,000 customers — including over 90% of the Fortune 1000® companies. The company's subject-matter expertise spans nearly 1,500 topics, and its diverse solutions include ELogs and mobile technology; training via online courses, streaming video or DVD; online management tools; managed services; consulting services; online and print publications; forms and supplies.
Transportation professionals rely on J. J. Keller's in-house expertise and wide selection of products and services to reduce risk and improve regulatory compliance, performance management, and operational efficiency. For more information, visit JJKeller.com.
For more information, contact: