Back to Press Releases
FOR IMMEDIATE RELEASE (May 1, 2020)
Prestigious CTP® Designation Awarded to J.J. Keller Associate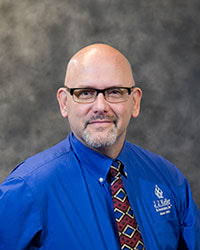 Neenah, WI - Product Integration Analyst Jim Ambrose is the latest J.J. Keller associate to receive the designation of Certified Transportation Professional® (CTP) by the National Private Truck Council (NPTC), one of the most prestigious and widely-respected professional credentials in the transportation industry. The CTP Class of 2020 joins more than 1,800 fleet and transportation professionals who have earned the CTP designation since the program's inception in 1993, proudly sponsored by J.J. Keller & Associates, Inc.
Ambrose was among this year's 90 honorees, bringing the current number of J.J. Keller associates who have obtained their CTP designation to 15. According to Amy Daley, J.J. Keller Senior Product Manager - Tech Solutions, and herself a 2009 CTP Graduate of the Year (the top class graduate), Jim's contributions to the Encompass® Fleet Management Platform are substantial. "Jim works with customers and other third party software providers to integrate data with the Encompass® Platform and is also the product owner for the new Encompass® Vehicle Tracking solution. He is a Certified Scrum Product Owner (CSPO) and has a patent related to work with our Encompass® ELD solution." Ambrose graduated with a B.S. in Mathematics and is a graduate of California State University – Chico.
Mari Roberts, CTP, Senior Director of Transportation, Frito-Lay, Inc., and Chair of the NPTC Institute Board of Governors that oversees the program, states that the CTP designation is a benchmark of excellence earned by a select few, but available to any fleet or transportation specialist willing to make the necessary commitment of dedicated effort. "These new Certified Transportation Professionals have demonstrated the knowledge and ability to understand complex operational and regulatory issues, identify and evaluate potential costs and savings, and develop systems and practices that best meet their company's transportation needs and objectives."
Daley agrees. "The knowledge accrued through participation in the CTP program will enhance Jim's ability to innovate and advance products and solutions that help J.J. Keller customers improve safety and compliance in more efficient and effective ways."
About J.J. Keller & Associates, Inc.
J. J. Keller & Associates, Inc. is the most respected name in safety and regulatory compliance. Since its beginning as a one-man consulting firm in 1953, the company has grown to over 1,400 associates serving more than 600,000 customers — including over 90% of the Fortune 1000® companies. The company's subject-matter expertise spans nearly 1,500 topics, and its diverse solutions include ELogs and mobile technology; training via online courses, streaming video or DVD; online management tools; managed services; consulting services; online and print publications; forms and supplies. www.jjkeller.com.
About NPTC
Founded in 1939, the National Private Truck Council is the only national trade association exclusively representing the interests of the private truck industry and corporate/business private truck fleet management. With an actively engaged leadership team of Board representatives, member volunteers and staff, NPTC in the past decade has grown significantly to serve a rising professional class of private fleet practitioners meeting the challenges of modern corporate transportation. NPTC is the leading learning resource center, government affairs advocate, and business networking culture for America's top private fleet and supplier member companies. The Council produces benchmarking, best practices, and economic data reports on the private fleet market; administers the highly regarded Certified Transportation Professional (CTP) training program, and conducts some of the most successful events in the trucking industry including the Annual Education Management Conference and Exhibition, the Private Fleet Management Institute, and the National Safety Conference. For more information about the Council's activities and programs, visit our website at www.nptc.org.
For more information, contact: