OSHA Form 300, 300A and 301
Injury & Illness Recordkeeping
OSHA focuses on work-related injury and illness recordkeeping in several ways. First, employers must properly document all work-related injuries and illnesses that occur in a given establishment. That includes knowing what incidents are recordable and must appear on the employer's Log.
Second, since 2017, certain employers must send their injury and illness data electronically to OSHA. Establishments with 250 or more employees must submit information from Form 300A by March 2 every year for the previous year's form (i.e., March 2, 2020, for the 2019 information).
Establishments with between 20 and 249 employees in certain "high-risk industries," as identified by NAICS code, must submit information electronically from their Form 300A. Beginning in 2019 and every year thereafter, that information must be submitted by March 2.
Injury and illness reporting procedures, workplace safety incentive programs, and associated drug testing may not be used as retaliation against employees who report work-related injuries and illnesses, nor may they discourage employees from reporting work-related injuries and illnesses.
It's essential that work-related injuries and illnesses are properly documented, and that your workplace programs are compliant, or you'll risk hefty fines.
You must be aware of a number of OSHA recordkeeping issues, including:
What constitutes a recordable injury and/or illness.
How to fill out OSHA 300 Log of Work-Related Injuries and Illnesses.
When you must post the OSHA 300A Form (Summary of Work-Related Injuries and Illnesses).
When it's acceptable to replace OSHA Form 301 (Injury and Illness Incident Report) with a workers' compensation form or insurance form.
How long you must retain the required records.
Who must electronically submit injury and illness data to OSHA.
What injury and illness data must be electronically submitted to OSHA.
The deadline for submitting data to OSHA.
---
OSHA Recordkeeping Timeline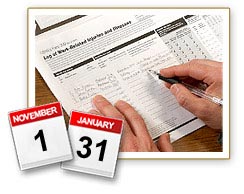 November-January:
Review the OSHA 300 Log to verify that entries are complete and accurate. Correct any deficiencies. Create and certify an annual summary of injuries and illnesses recorded on OSHA Form 300.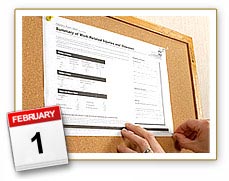 February 1:
OSHA Form 300A (Summary of Work-Related Injuries and Illnesses) must be posted where notices are customarily posted no later than February 1. This annual summary must be kept in place until April 30.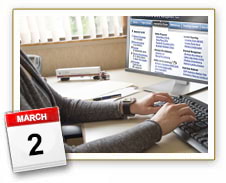 March 2:
Date by which affected employers must electronically submit data from the 300A Summary to OSHA.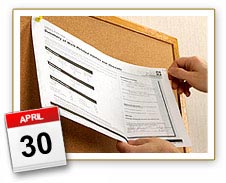 April 30:
Annual summary (OSHA 300A Form) no longer needs to be posted.