Back to Press Releases
FOR IMMEDIATE RELEASE (September 29, 2016)
A New Twist On Training; Occupational Health & Safety Magazine Names J.J. Keller® Video Training Book New Product of the Year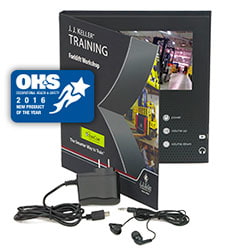 Neenah, WI - Making safety training as accessible as possible is what the Video Training Book from J. J. Keller & Associates, Inc. is all about. Recognizing this, Occupational Health & Safety (OH&S) magazine has named the Video Training Book a 2016 New Product of the Year.
The award program recognizes outstanding product development achievements by health and safety manufacturers whose products are considered particularly noteworthy in their ability to improve workplace safety.
"Our Video Training Book line is an exciting new offering for us," said Paul Paulick, senior product specialist at J. J. Keller & Associates, Inc. "It helps fill the gap for those customers who have limited internet access, regularly hire new or temporary workers, or simply don't have time to set up a classroom session for a single learner. To have this product recognized by OH&S is a true honor."
The Video Training Book is a portable, electronic format that offers more flexibility than traditional training formats. It features a seven inch video screen and push buttons. Since no internet connection or classroom is needed, employees can take it with them wherever they go. Each book comes with printed employee handbooks and training log, earbuds, and an AC adapter.
OH&S will present the award to J. J. Keller & Associates, Inc. at the upcoming National Safety Congress & Expo in Anaheim, Calif.
For more information on the Video Training Book, visit JJKeller.com/VideoBook.
About J. J. Keller & Associates, Inc.
Since its beginning as a one-man consulting firm in 1953, J. J. Keller & Associates, Inc. has grown to become the most respected name in safety and regulatory compliance. Now over 1,400 associates strong, J. J. Keller serves over 560,000 customers — including over 90% of the Fortune 1000® companies. The company's subject-matter expertise spans nearly 1,500 topics, and its diverse solutions include training via online courses, streaming video or DVD; online management tools; managed services; consulting services; online and print compliance manuals and instructional publications; ELogs and mobile technology, forms and supplies.
Safety professionals rely on J. J. Keller's in-house expertise and wide selection of products and services to reduce risk and improve regulatory compliance, performance management, and operational efficiency. For more information, visit JJKeller.com.
For more information, contact:
Mary Borsecnik
Corporate Marketing Communications Specialist
J. J. Keller & Associates, Inc.
1-800-843-3174, ext. 7050
Email: mborsecnik@jjkeller.com