What employers need to know about the Speak Out Act
Posted December 16, 2022
On December 7, President Joe Biden signed legislation curbing the use of confidentiality agreements that prohibit sexual harassment victims from speaking publicly about workplace misconduct.
The bipartisan legislation, called the Speak Out Act, bars the use of nondisclosure agreements (NDAs) that employees are sometimes required to sign as a condition of employment.
Here are 6 things employers need to know about the new law:
The legislation only applies to nondisclosure and non-disparagement clauses in agreements that are entered into before any dispute arises with respect to an employee's sexual harassment claims. This means, for example, that if an employee makes claims of sexual harassment and then signs a settlement agreement containing a nondisclosure clause with their employer to resolve such claims, this nondisclosure clause would still be enforceable.
The bill specifically states that it will not affect an employer's ability to enter into NDAs to protect its trade secrets or proprietary information.
The legislation is intended to apply to agreements with independent contractors as well as employees.
Any agreements signed regarding any other allegations, such as discrimination based on race or religion, are not affected by the law.
The law makes existing NDAs that include sexual harassment in non-disparagement provisions unenforceable.
The law also applies to any agreements between providers of goods and services and their customers.
The bottom line
Employers should make sure any new and existing employment and independent contractor agreements do not contain the sexual harassment nondisclosure/confidentiality or non-disparagement provisions covered by the bill. In addition, employers should take steps to prevent workplace harassment by having clear policies and conducting sexual harassment prevention training.
This article was written by Judy Kneiszel of J. J. Keller & Associates, Inc.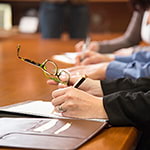 Looking for more on HR compliance?
Get the information and products you need to stay on top of industry changes and comply with regs.